Chris Harry's Blog

Harry Fodder
Monday January 30, 2012 Gators rocket up ranks (and Ratings PI); Beal named SEC Freshman of Week
GAINESVILLE, Fla. -- The voters are starting to get back on the Florida bandwagon.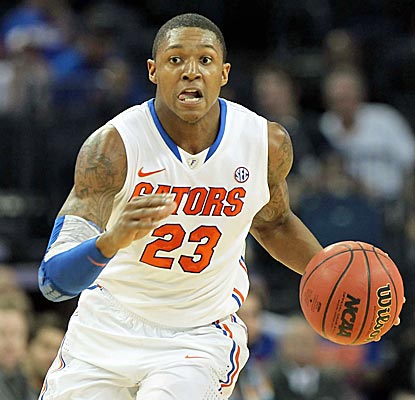 So are the computers.

The Gators, winners of five straight, climbed to No. 12 in the Associated Press Top 25 poll released Monday, and to 11th in the ESPN/Coaches rankings. Last week UF checked in at 14th and 13th with the coaches, respectively, but a big comeback win Thursday at Ole Miss coupled with Saturday's 69-57 point home victory over No. 18 Mississippi State padded Florida's rankings resume.

And that ain't all.

UF rocked up the RPI board, too. Jumping more than 20 spots after Sunday's final games wrapped; from 36th a week ago to 15th on Monday.

Next up for Florida (17-4, 5-1) is a Thursday night home game against struggling South Carolina (9-11, 1-5), followed by a third straight home date Saturday against Vanderbilt, which checked in at No. 25 by the AP.

Not that numbers mean a whole lot right now.

"We see them, but we don't really base too much on it," senior point guard Erving Walker said. "It changes weekly, so it really doesn't mean very much."

Neither do in-season accolades, but they're certainly worthy of mention.

Take UF guard Bradley Beal. He was named Southeastern Conference Freshman of the Week after averaging 14 points, three rebounds and 2.5 assists in the club's two victories. Beal had a team-high 19 against Mississippi State.

The fab frosh's name came up during Monday's media session with Gators coach Billy Donovan, who was asked if he was concerned that Beal, the former McDonald's All-American and 2011 Gatorade High School Player of the Year, is fourth in the SEC in minutes played at 33.4 per game.

"I'm not really that worried about him right now," Donovan said. "I don't see signs of [wearing down]. I think the biggest thing that happens, more than anything else, is that they get mentally fatigued. I have not seen that mental fatigue in him yet. Or physical. Right now, he's fine. Not saying that can't happen maybe several weeks from now. But right now I feel pretty good where he is."

Speaking of SEC honorees, the league's overall player of the week went to Vandy senior forward Jeffrey Taylor, who will be in town this weekend.

Taylor averaged 20 points, 7.5 rebounds and two assists in wins over Tennessee and Middle Tennessee State. He is also the SEC's active career scoring leader with 1,680 points, currently ranking second in scoring (17.3 points per game) and while hitting -- get this -- a blistering 68.2 percent (15-for-22) from 3-point range in six conference games.