Sunday January 29, 2012Patric Young, RPI, Thurs-Sat games, Rick Stansbury included in my rambling basketball blog
Updated: 4:38pm, January 29
Got some leftovers from a very good week for the Florida basketball team. Until I come with something better, we'll just call 'em "Gator Blog Bits."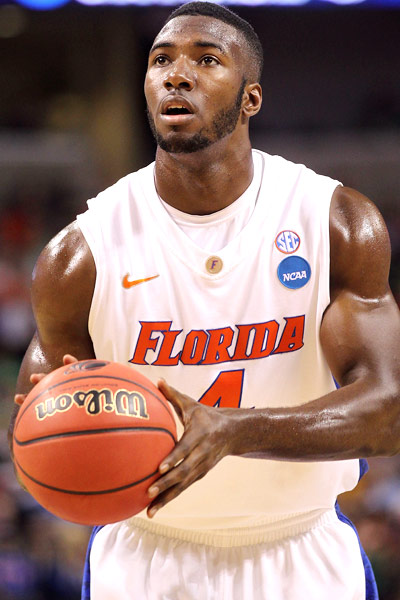 * After that huge comeback road win Thursday at Ole Miss and Saturday's feel-good beating of No. 18 Mississippi State at the O'Connell Center, the Gators have won five straight since that listless Southeastern Conference no-show opener at Tennessee. The last four have come with Patric Young coming off the bench, with the UF staff still somewhat leery of over-extending the 6-foot-9, 247-pound sophomore's minutes due to a sprained ankle suffered nearly three weeks ago. Young, apparently, is cool with his new-found role, which is just another example of how this team -- which could make a nice jump from No. 14, maybe even into the Top 10 -- is finding its identity and players their individual roles. "I went to Pat last night and I said to him, 'Tell me where you are mentally. Do you want to start?' " Gators coach Billy Donovan said after the 69-57 win over MSU. Young's response: "No, I'm fine coming off the bench. Totally fine." Why not? In those four games as a reserve, Young is 18-for-26 from the floor (69 percent) to go with 20 rebounds and 11 dunks in averaging 21.5 minutes.

* In the last two games, the Gators have 36 assists and just 11 turnovers and now are averaging 16.7 assists to 10.8 turnovers per game. That's a T/A ratio of 1.55 that leads the nation, just barely ahead of Syracuse and Missouri (1.54).

* That storyline about freshman guard Bradley Beal struggling, especially on the road, has kind of died down, hasn't it?

* Florida is 11-0 at home this season, with a 16-game winning streak that dates back to Jan. 20, 2011 and a 45-40 victory (yes, that was a full game's score) over Auburn.
* Kenny Boynton's 2 points were his season low and the fewest for the junior guard since going scoreless (0-9 from the floor, 0-6 from the arc) on Dec. 5, 2010 vs. American. Before Saturday, the fewest points for Boynton this season were nine in a home win against Arizona. Boynton still ranks third in the SEC in scoring at 17.2 per game.

* UF was 11 of 24 on 3-point shots Saturday, giving them 14 games this season with at least 10 made treys. It also extended the Gators' run of consecutive games with at least one 3-point basket to 672, a streak that that began Jan. 11, 1992.

* The updated RPI numbers (through Saturday's games) had the Gators jumping from 36th all the way to 17th. Thank you, Magnolia State. Ole Miss, which was unbeaten at home, started last week 34th on the RPI list and Mississippi State at 39th. Florida's next opponent is South Carolina (9-11, 1-5) at home Thursday, but the two games after that will offer some big-time RPI meat: Vanderbilt (currently No. 26) at home Saturday and at Kentucky (5th) three days later on ESPN's Super Tuesday.

* Junior forward Will Yeguete, in his four games since replacing Young in the starting lineup, has made nine of 12 field-goal attempts and averaged six rebounds, all the while guarding the opponent's best frontcourt player. The 6-7 Yeguete was matched against MSU's 6-foot-11, 249-pound Arnett Moultrie, a leading candidate for SEC Player of the Year, and held him to 12 points on 4-for-10 shooting and drew three of UF's five charges. Moultrie came into the game averaging 17.1 points (fourth in the SEC) on 56.3 percent shooting (second in the league).

* Mississippi State coach Rick Stansbury had some post-game remarks about the SEC's controversial Thursday-Saturday schedule, and shrewdly joined a few of his more vocal conference colleagues who have wondered why a certain team in Lexington -- for a second straight year -- has no Thursday-Saturday turnarounds. "As coaches, none of us like it, but it's part of it," Stansbury said. "And most of us in the league have to do it."

* Over the last two seasons, the Gators are 11-1 in Thursday-Saturday SEC double-dips. "The coaches prepare us well," said senior point guard Erving Walker, who had 10 points, four assists and no turnovers against the Bulldogs. "And we're young kids. We shouldn't be run down."
* Finally, prayers to the victims and the families impacted by that horrific pileup on Payne's Prarie early Sunday morning.