Chris Harry's Blog

Harry Fodder
Wednesday May 7, 2014 A hodgepodge of Gators draft history
GAINESVILLE, Fla. -- Forgive me while I step back into my NFL writers mode.

Anyone who follows this blog knows I like to revisit the old days, so while colleague Scott Carter hacks away about the Gators and the 2014 NFL draft, I figured it was a good time to delve into Florida's draft history.

This is the fifth year the NFL has split the draft into three days, with the first round getting Day 1 -- Thursday night in prime time -- all to itself. No Gators are expected to go when Commissioner Roger Goodell gavel's the proceedings to order, so it looks like it'll be the ninth time since 1983 a UF player has not been taken in Round 1.

Those other years: 1992, '93, '94, '96, '04, '05, '06 and '12.

While we're on the subject of first-round picks, the Gators have had 45 of them since running back Paul Duhart was taken in Round 1 (second overall) by the Pittsburgh Steelers in 1945. That was the same year Steve Spurrier was born and, ironically, Spurrier happened to be the next UF player taken in the first round.

Spurrier was selected third overall by the San Francisco 49ers in 1967, but never developed into a top-flight quarterback, though he did set a franchise record with five touchdown passes in a game (a mark later broken by Joe Montana). Spurrier, however, hung around the NFL for 10 seasons and was a pretty good punter, but I'm not sure that disqualifies him the list of infamous first-round Florida flameouts along with the likes of John Reaves, Huey Richardson, Reggie McGrew, Derrick Harvey and Tim Tebow.

As for my list of best UF first-round picks, what do you think?

1) Emmitt Smith (Dallas, 1990, 17th overall). NFL's all-time rushing leader with 18,355 yards, three-time Super Bowl champion, eight-time Pro-Bowler, four-time NFL rushing champion and first-ballot Pro Football Hall-of-Famer. Smith (pictured above right) is the only choice for this spot, right? Right.


2) Wilber Marshall (Chicago, 1984, 11th overall). Beastly outside linebacker -- maybe the greatest defensive player in UF history -- who starred on arguably the greatest defense in NFL history for the Bears. In 1988, Marshall (right) signed a free-agent contract before there was even free agency. He got big money from Washington and helped the Redskins win a Super Bowl, too.

3) Wes Chandler (New Orleans, 1978, 3rd overall). Was great for the Saints, but even greater as one Dan Fouts' targets for those explosive "Air Coryell" offenses in San Diego.

4) Jack Youngblood (Los Angeles Rams, 1971, 20th overall). Linebacker from Monticello became the first UF-produced Pro Football Hall of Famer in 2001. One of the toughest, most ferocious and passionate players of his era.

5) Lomas Brown (Detroit Lions, 1985, 6th overall). An 18-year offensive left tackle whose career spanned three decades (1980s, 1990s and 2000s), was voted to seven Pro Bowls and named first-team All-Pro three times. Won a Super Bowl as a backup with Tampa Bay in '02.


6) Kevin Carter (St. Louis Rams, 1995, 6th overall). Exemplary student-athlete, Carter became a Pro Bowl defensive end for the '99 Super Bowl champion Rams and went on to star for Tennessee, Miami and Tampa Bay, as well. Carter (right) is one of only 30 players in NFL history to record 100 sacks in a career, Carter's 104.5 is tied for 25th all-time.

7) Jevon Kearse (Tennessee Titans, 1999, 16th overall). They were calling him "The Freak" before everybody it seemed was called a "freak." He broke the league's rookie record for sacks with 14.5 and won '99 Defensive Rookie of Year honors while helping the Titans reach the Super Bowl (where they lost to Carter's Rams).

8) Fred Taylor (Jacksonville Jaguars, 1998, 9th overall). One of only 28 players in NFL history to reach 10,000 career rushing yards, Taylor currently ranks 15th on the all-time list with 11,695 yards. He retired after the 2010 season.

9) Trace Armstrong (Chicago Bears, 1989, 12th overall). Another 100-sacks club member. He checks in at 24th with 106. Armstrong returned to school to get his law degree, went on to become president of the NFL Players Association and now is agent for several high-profile coaches and sports media personalities.

10) Percy Harvin (Minnesota Vikings, 2009, 22nd overall). Tough to imagine 21 players better than this guy in that draft. Harvin was Offensive Rookie of the Year playing alongside Brett Favre. Granted, Harvin has had his injury issues -- that's why he was traded to Seattle for 1st, 3rd and 7th-round picks -- but he showed his dazzling game-changing skills in the Seahawks Super Bowl XLIII blowout of Denver in February with that 87-yard kickoff return to start the second half and break the game open.

Now, as an off-shoot (and perhaps more applicable, given where many of the 2014 Gators are rated heading into this year's allocation), here's a look at who I consider the 10 best bargain draft picks who came out of Florida.
1) Nat Moore (Miami Dolphins, 1974, 3rd round, 78th overall). He caught 510 passes for 7,466 yards and 74 touchdowns in 13 NFL seasons -- all with the Dolphins. He started his career catching passes from Bob Griese and ended it catching them from Dan Marino, both of Hall of Famers. In 1984, Moore was voted NFL Man of the Year and went on to be the color analyst for Gators replays on Sun Sports.


2) Brad Culpepper (Minnesota Vikings, 1992, 10th round, 264th overall). One of the all-time great student-athletes at UF -- also student body vice president -- Culpepper was considered too small for the league and lasted into a round that doesn't even exist anymore (the draft is just seven rounds now). Despite being the 29th defensive tackle taken that year, he went on to play nine seasons in the NFL. His bests days were as Warren Sapp's nose tackle and wing man in that vaunted Tampa 2 scheme with the Buccaneers. He had 34 sacks in his career, including 8.5 in 1997.

3) Max Starks (Pittsburgh Steelers, 2004, 3rd round, 75th overall). Started 96 of his 125 NFL games and played on two Super Bowl championship teams with the Steelers, blocking for Ben Roethlisberger.

4) Don Chandler (New York Giants, 1956, 5th round, 57th). He eventually became the placekicker for Vince Lombardi and the Green Bay Packers teams that won the first two Super Bowls and was named as the punter of the NFL's All-Decade Team for the 1960s. Chandler still holds a share of the record for most field goals in a Super Bowl (4). Oh, and in 1965, he had -- get this -- a 90-yard punt in a game against the 49ers.

5) David Little (Pittsburgh Steelers, 1981, 7th round, 183rd overall). Played 12 seasons in the NFL, started 125 games, including 81 in a row during one stretch. Little died in 2005 at the age of 42 when he accidentally dropped 250 pounds of bench-press weights on his throat.

6) Alex Brown (Chicago Bears, 2002, 4th round, 104th overall). Played nine NFL seasons, all but one with the Bears, and started 123 of 145 games -- losing to Peyton Manning in Super Bowl XL at Miami -- and totaled 45.5 sacks.

7) Bobby McCray (Jacksonville Jaguars, 2004, 7th round, 249th). Played four years with the Jaguars, but made a much bigger name (and more money after signing a five-year, $20 million free-agent deal) with the New Orleans Saints. McCray put the infamous "bounty" hit on Arizona's Kurt Warner in a 2009 playoff game, then a week later did the same to Favre against the Vikings and was fined $20,000 for his actions.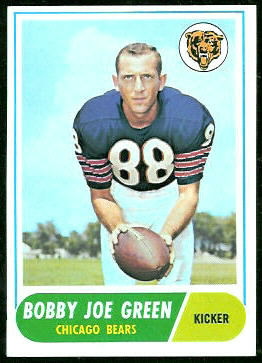 8) Ray McDonald (San Francisco 49ers, 2007, 3rd round, 97th overall). Has been a key player on the 49ers defensive line the last several seasons and started in Super Bowl XLVII won by the Baltimore Ravens. McDonald, who signed a $20 million contract extension in 2011, has 134 career tackles and 13 sacks.

9) Bobby Joe Green (Pittsburgh Steelers, 1959, 9th round, 102nd overall). Still holds the UF record for punting average in a season (44.9 yards). Green (that's his football card to the right) was traded to the Bears in 1962 and was a member the '63 NFL championship squad coached by he legendary George Halas. Green died at his home in Gainesville in 1993 at the age of 57 following a heart attack.

10) Cooper Carlisle (Denver Broncos, 1999, 4th round, 112th overall). He was neither flashy nor talkative during his UF days, but Carlisle was a mid-round draft pick of Mike Shanahan's and and stuck in the NFL as an offensive guard for 13 seasons, playing in 190 games and starting 133 of them.