Chris Harry's Blog

Harry Fodder
Tuesday February 25, 2014 Vandy has won four of last five vs. No. 1s at Memorial Gym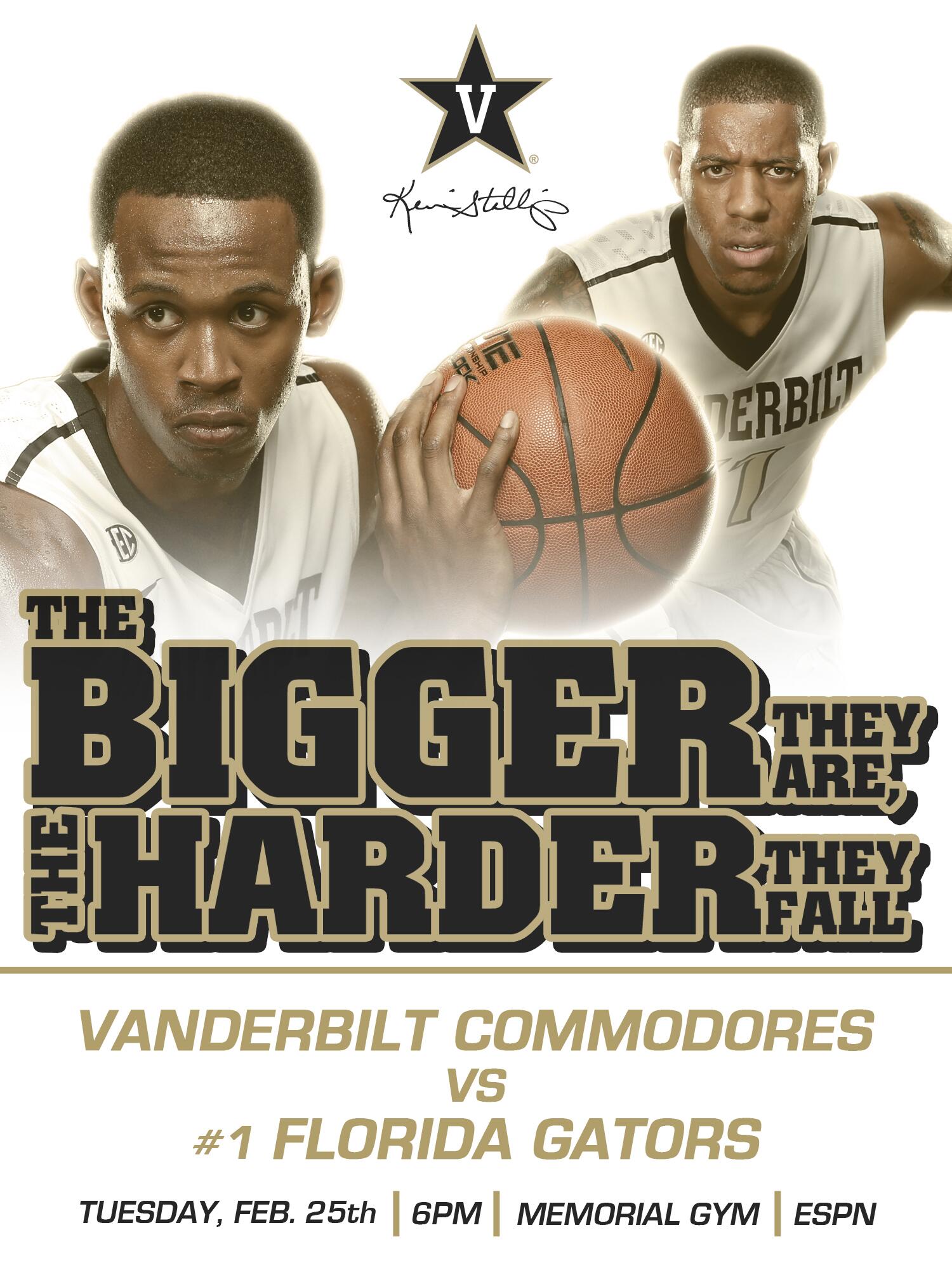 NASHVILLE, Tenn. -- They call it "Memorial Magic" and the Florida Gators have experienced the enchantment before.

In fact, the last time UF was No. 1, the Gators came here and -- Poof! -- the Vanderbilt Commodores made the No. 1 ranking disappear.

Seven years later, Florida (25-2, 14-0) again sits atop both major college basketball polls and its first venture with the top-dog digit will be against the giant-killing Vandy (15-11, 7-7) at Memorial.

The Commodores are 6-7 all-time against No. 1s at home, including four wins in the last five, dating to 1987.

That's why the school's public relations department pushed out this graphic (right) in rallying the black and gold masses for what the Commodores faithful hope is another big -- and magical -- night at the oldest gym (as in 1952) in the Southeastern Conference.

"It would be very, very gratifying to be able to be victorious against a team of their caliber," Vanderbilt coach Kevin Stallings told reporters Monday. "But talking about it and wishing on it and all that kind of stuff is a lot different than doing it. It would take our best game of the season, unquestionably. But that's why we're going to play, to see if we can put that kind of effort out there and see what happens."
As stated, it's happened before.

Here's a review of those last five visits from No. 1s.

Feb. 11, 2012: No. 1 Kentucky 69, Vanderbilt 63
Doron Lamb's 3-pointer with just over three minutes to go gave the Wildcats the lead for good. Kentucky's defense, anchored by All-America center Anthony Davis (15 points, 7 blocked shots), did not allow a Vandy point over the final four minutes to put the game away. Lamb, a sophomore who helped balance that freshmen-led Cats squad, finished with 16 points. [Note: The Commodores exacted some revenge by stunning Kentucky, which went unbeaten in SEC play, in the championship game of the Southeastern Conference Tournament a month later.]

Feb. 26, 2008: No. 18 Vanderbilt 72, No. 1 Tennessee 69
One day after reaching No. 1 for the first time in school history, Tennessee's No. 1 state rival made sure the Volunteers' stay at the top would be a short one. In the first game with both teams ranked since 1968, Commodores forward Shan Foster scored a career-high 32 points and out-gunned UT guard Chris Lofton (25 points). Vandy jumped out to a quick double-digit lead and never trailed in the game, with some clutch free-throw shooting down the stretch fending off a Vols' rally.

Feb. 17, 2007: Vanderbilt 83, No. 1 Florida 70
The defending NCAA champion Gators were unbeaten through 11 SEC games when they went to Memorial and got ambushed in what Vandy forward Derrick Byars called a performance "for the ages." Byars and Foster both scored 24 points for a Vandy team that sizzled for nearly 58 percent from the floor and forced 22 UF turnovers. The loss was just the second in the previous 37 games for the Gators, with Vandy fans storming the court -- in violation of SEC rules, but who cared?


Jan. 1, 1993: Vanderbilt 101, No. 1 Kentucky 86
On the way to capturing just the third SEC title in school history, point guard Billy McCaffrey scored 22 points and set a school record with 14 assists to hand Coach Rick Pitino and the Wildcats their first loss since Duke's Christian Laettner nailed his buzz-beating dagger in the epic NCAA East Region title game 10 months before. Center Chris Lawson had 19 points and guard Ronnie McMahon had 16 for the Commodores. UK All-American Jamal Mashburn came into the game averaging 23.4 per game, but was held to just 14. UK got 17 each from Travis Ford and Rodrick Rhodes. The Commodores, coached by Eddie Fogler and led by McCaffrey, the transfer from Duke, went on to finish 14-2 in league play.

Dec. 5, 1987: Vanderbilt 78, No. 1 North Carolina 76
Center Will Perdue (right) scored 23 points, grabbed 10 rebounds and blocked three shots as the Commodores shocked UNC a week after the Tar Heels, led by J.R. Reed and Rick Fox, took down then-No. 1 Syracuse and took over the top spot. Vandy erased a six-point Carolina lead with seven minutes to go and led by three points when UNC guard Jeff Lebo stole an inbounds pass and then was fouled attempting a 3-point shot with one second to play. The rules at the time, however, called for just two free throws (instead of the current three) and the Commodores held on for the win. Perdue went on to be voted SEC Player of the Year.