Chris Harry's Blog

Harry Fodder
Friday January 31, 2014 Scout team swan song for Chris "Sky" Walker
Updated: 1:45pm, January 31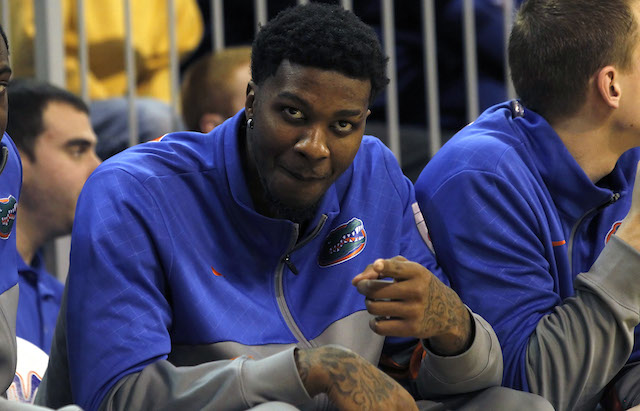 GAINESVILLE, Fla. -- Freshman Chris Walker won't take the floor for the Florida basketball team for another four days, but that won't prevent the dialogue at Billy Donovan's Friday afternoon news conference from being almost exclusively focused on a kid everyone is talking about, few have seen and will not play Saturday against Texas A&M.

Wonder if the A&M game will even come iup.

Anyway, since Gator fans can't get enough "Sky" Walker fodder, Harry Fodder is going to feed the beast some more.

I've been watching the 6-foot-10 McDonald's All-America center practice nearly every day since he arrived Dec. 14. Being so far behind in the familiarity and nuances of what the Gators do on offense and defense, Walker has gotten plenty of individual instruction, attention and feedback from coaches and teammates in an effort to get him caught up.

"He's coming," Donovan told me Friday night after a team meeting in Starkville, Miss. "He's getting better, he's getting a better feel and understanding. I can see the strides and progress, but it's been emotional and draining on him. He last played organized basketball last February [in high school][, and suddenly he's injected into this."

During the winter break, NCAA guidelines that limit student-athletes to 20 hours of practice and preparation a week did not apply. The UF staff took advantage of the extra time they could spend with Walker, but the kid's head was spinning.

Then once school got started, Walker had to become, you know, a student. Remember, Walker did not attend UF in the fall, so this sudeen life change also included his first taste of collegiate academics in the middle of soaking in all this basketball on the fly. From the day Walker arrived to the start of classes, the Gators only had four games over 23 days. Once school tipped, so did the SEC season, and the Walker juggling act really began.
That's when the UF staff took on a different tact.

Donovan basically told his assistants, "You have to deal with him at practice." Donovan had the regular eight-man rotation he needed to get ready for games and the long haul of competing for a league championship. He could not stop practice every few minutes to give Walker a how-to lesson.

"I told them, 'Yank him out. Coach him. Teach him. Tell him what's going on,' because I have to deal with these other guys," Donovan said. "Sometimes, I'm losing my mind because he doesn't know what he's doing and suddenly we're playing 5-on-4. That's not his fault, but we also can't keep putting him in that situation."

Friday afternoon will mark Walker's final practice as a member of the "orange" scout team. Given his debut against Missouri is Tuesday night, Walker may even get a few reps with the "blue" regulars. Knowing Donovan, tough, the Gators won't get too ahead of themselves with a quick one-day prep, having won Thursday night at Mississippi State, with A&M due in Saturday and another chance to pad their SEC lead.

After today, though, "Sky" is in the fold for real.