Chris Harry's Blog

Harry Fodder
Sunday January 26, 2014 Basket Blog: 3-point defense, press defense, Parson's hot hand, etc.
Updated: 7:21pm, January 26
GAINESVILLE, Fla. -- He calls the 3-point line "the great equalizer."

In the basketball universe, that phrase is hardly exclusive to Billy Donovan, but it's something he emphasizes daily on both ends of the floor. Everyone knows Donovan's teams love to shoot 3s, but the Gators spend an awful lot of time practicing to prevent them.

Yet when UF went to Alabama for Thursday night's game, the Gators were allowing 35.9 percent shooting from the arc (fifth-worst in the league), including a horrific 44.6 percent in in their four Southeastern Conference games. The latter statistic was worst in the league.

"We're giving up a higher percentage on 3-point shots than 2-point shots," Donovan pointed out.

That quote actually came after Saturday's 67-41 annihilation of Tennessee. Given what happened in the O'Connell Center that day (and two days earlier in Tuscaloosa), consider the statement retroactive to the previous two games.

Florida's coaches consistently peg the 3-point line as a point of emphasis on the road, given that most teams shoot better in their home arenas. Like Auburn did last weekend in making its first five long-range jumpers and feeding off the momentum to take UF down to the wire.

The Gators numbers got a whole lot better, though, after beating the Crimson Tide and Volunteers, virtually shutting both out from long distance. Try a combined 3-for-31 -- Alabama went 2-for-12, Tennessee 1-for-19 -- which equates to a two-game defensive yield of 9.7 percent from the great beyond.
You can win a lot of game defending the line like that.

"Maybe things are evening out a little bit," Donovan said. "That's an area we've talked about trying to get better. [Tennessee] did take 19 and that's probably too much [to give up], but we played some zone and you're going to give up some 3s. So it was part our defense and some of them missing."

The Gators (17-2, 6-0) will go into this week -- with games Thursday at Mississippi State (13-6, 3-3) and home Saturday against Texas A&M (12-7, 3-3) -- with vastly better defensive numbers from the arc.

SEC opponents are now hitting 32.2 percent, which is up to eighth in the league. That's headed more where Donovan wants to be, but just how good the Gators really are at defending the line either will even out or bear out as the season moves on.
THAT'S WHAT HE WANTS

In the second half against the Vols, the Gators turned a seven-point lead at the break into a 23-point lead in less than 10 minutes, thanks to a 21-5 blitz out out of the locker room.

That's the blueprint Donovan wants this team built around. All of his teams, actually.

"Certainly, we want to stretch the floor and press," he said.

Florida was able to do that in the second half better than the first for one simple reason: the Gators hit shots. When shots are made and the ball has to be inbounded, the defense has time to set the press, as opposed to scrambling back after a miss and picking up a man or getting to a spot in the zone.

Even with the press working so effectively, UF only forced six second-half turnovers, but the Vols broke it just once for a mere two fast-break points. And when UT did manage to get the ball into the halfcourt, a nice chunk of the shot clock was gone and the Vols -- including leading scorer Jordan McRae (1-for-15) -- took some really bad shots.

That's what you call chaos on the court.

There's nothing Donovan likes better.
TRIVIA QUESTION

When UF won at Bama it marked the 100th victory for the senior class of Patric Young, Scottie Wilbekin, Will Yeguete and Casey Prather, and is the most by any four-man class that stayed the entire four years. The Tennessee win gave that group 101 victories. Name the players from the only three-man UF class to win 100 games.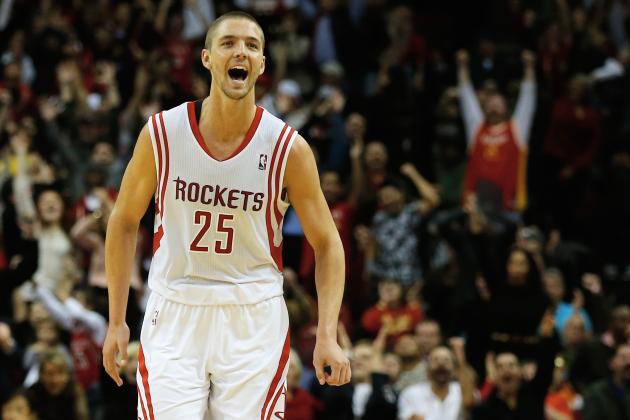 FORMER GATOR UPDATE

This one was easy.

If you didn't know Houston Rockets forward Chandler Parsons, the 2011 SEC Player of the Year, tied a franchise record Friday night by burying 10 straight 3-point shots against the Memphis Grizzlies then you probably were locked in a closet somewhere.

Parsons was positively unconscious, raining a perfect 10-for-10 in the second half -- the only player in NBA history to hit that many treys without a miss in one half -- on his way to scoring a career-high 34 points. The Rockets, though, lost the game 88-87.
"My body went numb," Parsons told The Houston Chronicle. "I never felt that feeling on a basketball court before. It was a lot of fun. I felt like anything I would throw up there would go in. It felt extremely good."

Guess so.

The performance also came the same day USA Basketball left Parsons off its 28-man roster for tryouts for the national team going to the World Championships this summer. Consider that motivation.
If you missed the highlights, enjoy.
TWITTER PATTER
Dear NCAA: Chris Walker and Florida have waited long enough. The DMV now believes you are slow and inefficient.

— Jay Bilas (@JayBilas) January 22, 2014
Tennessee basketball wishes Peyton good luck in the Super Bowl! Here's a pic of him at Thompson-Boling Arena. pic.twitter.com/UZCHIYNbCL

— Tennessee Basketball (@Vol_Hoops) January 24, 2014
DEFENSE CREATES OFFENSE

— Gator Follow Train (@UFFollowTrain) January 25, 2014
Gators Final 4 good. Depth developing. Press improving. Compete.

— Seth Greenberg (@SethOnHoops) January 25, 2014
"@graysun94: @Will15Yeguete when Coach Donovan's happy everyone's happy pic.twitter.com/PnjzeAerPS"Haha 👍 #GoGators

— Will Yeguete (@Will15Yeguete) January 26, 2014
CHARTING THE GATORS
Patric Young keeps inventory of when he gets on ESPN's Top 10 Plays. He made it Saturday night, checking in at No. 9 for his one-handed, alley-oop slam on a pass from Michael Frazier II. Congrats. Well, here's another Top 10 for the big fella. Thursday night will mark Young's 131st game, which will move him into a tie with Matt Bonner for 10th place on the all-time UF list.
Rank Players Years Games
1 Walter Hodge 2006-09 151
2 Kenny Boynton 2010-13 145
3 Erving Walker 2009-12 144
4 Chandler Parsons 2008-11 142
Alex Tyus 2008-11
6 Chris Richard 2004-07 141
Dan Werner 2007-10
8 Erik Murphy 2010-13 136
Lee Humphrey 2004-07
10 Matt Bonner 2000-03 131
IRREVERANT GATOR PHOTO
"Knock! Knock!" Seriously, what would the look have been on that person's face?
FREE THROWS

UF's defensive efficiency rating (that's points per possession) against UT was a ridiculous .69. Florida's coaches set a goal for each game at .90 or below. ... Tennessee's loss at the O'Dome was the worst in Coach Cuonzo Martin's three seasons. The 26-point margin eclipsed by one the 69-44 pounding eventual national champion Kentucky put on the Vols in Lexington two years ago. UT's shooting percentage of 26.2 was its worst in an SEC game in 17 years. ... With Duke beating Florida State on Saturday, the Blue Devils have the longest active home winning streak in the nation at 28 games, while UF pulled even with Stephen F. Austin for second place at 26. SFAU plays host to Abilene Christian Thursday. ... ESPN coloar analyst Jimmy Dykes called Saturday's game. Dykes said Florida plays "mother-in-law defense." Translation: "constant harassment." That's a pretty good line. ... Young (1,079 points) needs two points to pass Lee Humphrey and move to No. 45 on the school's all-time scoring list. ... Regarding McRae's 1-for-15 game, only one other player in the nation this season has taken more shots in a game and made just one field goal. Take a bow, Fordham's Jon Severe, who went 1-for-21 against St. John's. Hey, you're only one make away from that hot streak, right? ... Trivia answer: The 1999-2000 freshman class of Matt Bonner, Justin Hamilton and Brett Nelson won 100 games (and played in the 2000 NCAA final) during their four seasons.