Thursday January 9, 2014Wilbekin, Prather held out of practice; both 'questionable' for Saturday's game at Arkansas
Updated: 5:49pm, January 9
GAINESVILLE, Fla. -- Senior point guard Scottie Wilbekin was held out of practice Thursday after spraining his right ankle in Wednesday night's win over South Carolina.
And that was only half of Florida coach Billy Donovan's injury concerns.
UF forward and leading scorer Casey Prather (left) woke up Thursday with swelling in his right knee. Prather, the senior averaging 17 points, 5.5 rebounds and tops the Southeastern Conference in field-goal percentage at 62.4, did not practice and was scheduled to undergo tests Thursday night.
"He did not get hurt in the game," Donovan said. "This one came out of nowhere."
Where it's going won't be determined until the UF health staff sees those tests. But trainer David "Duke" Werner pegged both Wilbekin and Prather as questionable for Saturday when the 10th-ranked Gators (12-2, 1-0) take on Arkansas (11-3, 0-1) in their Southeastern Conference road opener.
"We just have to wait and see," Werner said.
Wilbekin rolled the same ankle late in last month's game at Connecticut and was not on the floor to defend Huskies guard Shabazz Napier, who sank a 15-foot jumper as time expired for a 67-66 UConn win.

How did this one feel compared to that one?

"About the same," said Wilbekin, the team's playmaker and second-leading scorer at 12.3 points per game. "It hurt. It hurts every time I do it."

It's been happening a lot lately. Wilbekin actually turned the other ankle -- his left -- during Wednesday afternoon's shoot-around and had to leave practice for a few minutes. He came back, ran hard and finished the workout.

Against the Gamecocks, Wilbekin was injured when he drove to the basket and missed a runner with just under three minutes to go in UF's 74-58 win over the Gamecocks. At the time, the Gators were leading 70-47 and junior walk-on Jacob Kurtz was waiting at the scorer's table to replace Wilbekin in the lineup.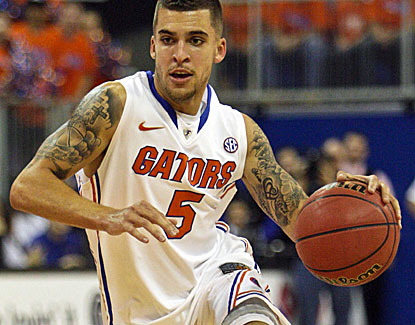 After the game, Donovan spoke about how the UF coaches have tried to break Wilbekin (right) of the habit of driving to the basket, and shooting floaters off one foot. He takes a lot of them, but few go in.

"Yeah, I knew he was going to bring that up," Wilbekin shrugged.

They've even put him through individual drills emphasizing two-footed, jump-stop takeoffs.

Donovan said Wilbekin had done a decent job breaking the habit, but that one time late in the game Wednesday proved one time too many. Plus, the shot was blocked.

"He was driving down the lane, out of control, no [offensive] movement and it's early in the [shot] clock," Donovan said. "He has to do a better job."