Chris Harry's Blog

Harry Fodder
Wednesday December 18, 2013 Media lights beam brightly, kindly on Gators in Manhattan
Updated: 6:53pm, December 18
GAINESVILLE, Fla. -- They didn't exactly take Broadway by storm, needing a big defensive stop on the game's final play to hold on for a tooth-and-nail victory.

But the show 16th-ranked Florida put on Tuesday night in holding off feisty and lightning-fast Memphis in a wildly entertaining 77-75 UF win in the Jimmy V Classic at Madison Square Garden definitely earned the Gators some respect from the national media.

Or as ESPN.com's Dana O'Neil called it, perhaps UF's "most complete team since Billy Donovan won back-to-back championships."


The Garden was awash in basketball writers who go to a lot of games across the country. In glancing over some of the coverage Wednesday, seeing the Gators in person for the first time -- Patric Young playing feverishly on both ends; the athleticism of Casey Prather; Dorian Finney-Smith's inside-out versatility; the old-young backcourt of Scottie Wilbekin; the shooter's eye of Michael Frazier -- sent them away impressed.

Even after those 17 turnovers.

I'm not at all surprised. You see, in a college game riddled with the one-and-done mentality, Donovan and his veteran squad of four seniors -- really good seniors, but seniors nonetheless -- provide a different, understated and in some cases refreshing narrative to the NBA instant-lottery madness.

Some samples:

First, from O'Neil, who also saw the Gators two weeks in their one-point escape act against Florida State.

What makes Florida all the more intriguing, though, is that which you can't quantify.

The Gators have scars, which Donovan talked about after the Gators' win Tuesday night.

He didn't speak as if his team is hung up on what it hasn't accomplished, but it knows what it means to have scars.

Nobody has those anymore. Teams don't cart painful memories around because players don't last long enough to build up memories together. What you did lately has the shelf life of maybe six months. It's all about muscle memory, not collective memories.

But the Gators have four seniors, which essentially qualifies them for AARP benefits. These are guys who remember the successes of three consecutive Elite Eight runs but also the flip side of three could-be Final Fours that ended short of the doorway.

"They've got a lot of scars on them; they've been through a lot," Donovan said. "And maybe it's because they've been scarred enough and wounded enough, they understand that this is a journey."

The journey, however, could be another awfully good one for Donovan.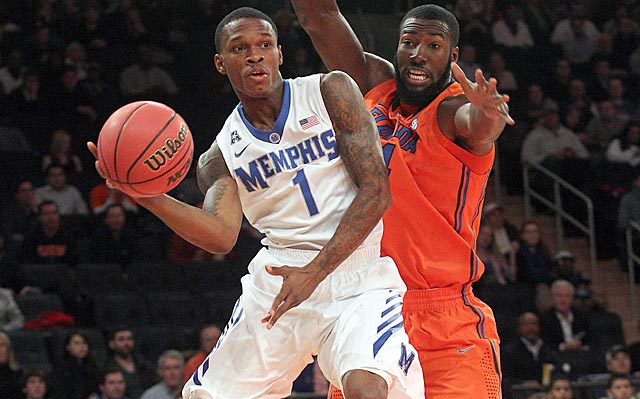 Luke Winn, of SI.com, used the game profile Prather. Why not? All he did was score UF's last eight points, including two clutch free throws with 27 seconds to play.

Prather is a testament to Donovan and a program that puts a premium on developing players and grooming them to meeting their potential in the framework of the system.

That's why a guy who averaged 3.1 points per game over his first three seasons can now lead the team in scoring at 18.3 per game after pouring 22 against the Tigers.

Or as Winn put it:

By Prather's age, a player typically is what he is as a collegian.

But when you stick around long enough and work hard enough, opportunity finds you. When the Gators had their run of suspensions and injuries, he answered the call.

Tuesday night, SI.com clearly noticed.

Even as the Gators crawled back to near full strength -- with Wilbekin, Finney-Smith and Frazier now in the rotation, and recent wins over Kansas and Memphis -- Prather has remained the focal point. And a very efficient focal point at that: He's scoring 1.23 points per possession while using a team-high 28.6 percent of possessions.

The secret to Prather's late-stage evolution, according to coach Billy Donovan, is self-awareness. "[Prather] is playing to his strengths now instead of trying to prove he can overcome his weaknesses," he said following Tuesday's game. "And I think it's the first time I think he's been playing with a clear head, a clear mind and [knowing], here's who I am as a player, here's now I need to take advantage of it."

Namely, for Prather, it's knowing that he is not a jump-shooter from anywhere far outside the paint, and that if he attacks the basket intelligently (in isolation situations with matchup advantages), he will either score or get to the free-throw line. He's generating 9.7 free-throw attempts per 40 minutes this season and converting at a 75.7 percent clip, compared to 3.7 and 58.3 percent as a junior.


CBSSports.com's Jeff Borzello used the forum to praise both the Gators and the Tigers, suggesting both have the pieces to go to the Final Four.

On UF:

When Florida is healthy and has its full allotment of players, the Gators are going to be as talented and versatile as any team in the country. They have weapons at every position, and players like freshman Kasey Hill and transfer Dorian Finney-Smith are only getting better. Moreoever, Prather continues to surprise with his breakout season. No one saw it coming --and only Andrew Wiggins has been able to stop him this season.

"Guys being out has sort of freed him up," Florida head coach Billy Donovan said. "It was good, as a senior, to see him bounce back."

Plus, future first-round pick Chris Walker isn't even eligible yet.

Florida has only been healthy and suspension-free for a couple of games this season, but the Gators have shown the ability to match up with different lineups, going with two point guards, zone defenses, multiple big men -- Donovan has a variety of ways to use his players.

"We've had a lot of different experiences," he said. "Guys have grown and gotten better. There's a ceiling for us to really get better."

The headline to the USA Today piece, courtesy of Nicole Auerbach, played off the experience factor. As in, "For Florida, age could lead to basketball beauty."

Auerbach pinned Billy D down after his interview session with the media.

"When we walk on the court to play, it's not like our guys are overwhelmed. They've seen just about everything," Donovan said. "Kansas and those teams have great potential, great upside because of their youth. I don't know how many older teams there are. For our eight guys we're playing, four are seniors. … I think there's something to be said for that, having experienced guys."


Technically, there are 77 teams in college basketball with more experience on their roster than Florida, according to KenPom.com. But very few of these older teams have the potential for a deep postseason run quite like the Gators do.

Finally, on the website Sports On Earth, Howard Megdal took a good, long look at the 48-year-old Donovan and, like O'Neil, pointed out how the Florida coach -- after his infamous about-face with the Orlando Magic -- had to navigate the difficult challenge of rebuilding a two-time national championship program (Duke's Mike Krzyzewski are the only coaches to win back-to-back titles since John Wooden) into a serious challenger for another title.

At Florida, no less.

As for the man himself, Donovan may well exceed what he's done the past three seasons. He's much younger than Krzyzewski, or even his mentor from all those years ago at Providence, Rick Pitino. He spoke about the seniors he has, and how they are able to block out their past accomplishments in pursuit of a new goal. It certainly sounded like a blueprint he follows himself.

"I don't get a sense from them like it's 'we want more,'" Donovan explained. "Like I said earlier, I think they're smart enough to know that this is an entirely different year. And that, although they went to three Elite Eights, it's not like, OK, we're just gonna get back there again. I think that they understand, they've been scarred enough, they've been wounded enough through competition, that I don't get that sense from them.

"I think one of the things we've had to battle -- when you're a senior, there's a monotony sometimes, with practice. There's no more new drills. I may come up with some new ideas, or some different things, but the bottom line is, we've gotta play defense. They've got to guard pick-and-rolls every single day. There's things they've got to do that are tedious. And can you crank yourself up every single day, to really start all over, at the ground floor, and start the process over, every single day?"

Donovan has. He, too, has been forced to make the new year the challenge, or even building his program all over again, after nearly leaving it, the challenge. There's no other Donovan out there for him to try and match. In that context, his difficulty deciding back in 2007 makes all the sense in the world. It's got to be awfully difficult to figure out what to do next when the only one you're competing against is yourself.