Chris Harry's Blog

Harry Fodder
Thursday December 12, 2013 Billy D, Gators focus on defense and finishing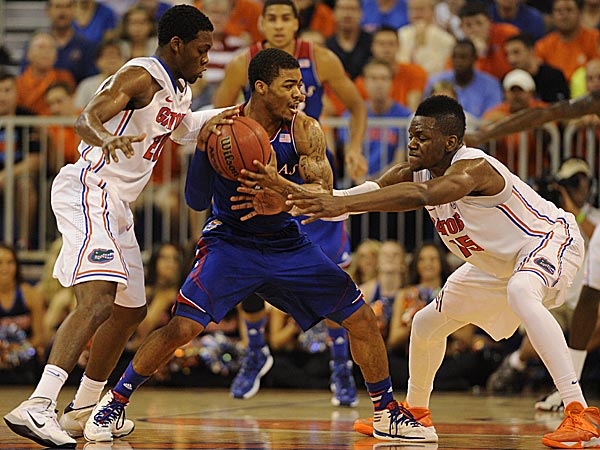 GAINESVILLE, Fla. -- The day after a game is usually an off day from practice, but Coach Billy Donovan sometimes brings his team in for a film session and that was the case Wednesday, the morning after the 19th-ranked Florida Gators defeated No. 13 Kansas 67-61 in a marquee matchup at the sold-out O'Connell Center.

The bulk of the highlight-reel plays that lathered up the Rowdy Reptiles weren't included in the screening.

Instead, the Gators got a defensive horror flick.

"Disgusting," UF assistant coach John Pelphrey said. "Despicable."

Those were the words Pelphrey chose when asked about the final 3 minutes, 8 seconds Tuesday night. That's when the Gators, after holding the Jayhawks to just 44 points over the game's first 37 minutes, allowed KU to score 17 on its final 11 possessions.

That's a DER (defensive efficiency rating) of 1.45 points per possession.

For context, Florida's goal is .90.

That's why Thursday's practice was defensive loaded, with the blue team (the starting rotation) in the coaching staff's crosshairs. There was no mention of Memphis, the nation's 16th-ranked team and the next opponent on the UF schedule.

That game is Tuesday in New York. These next few days will be Gators focusing on Gators.

"We're building for a different day when we've got to play two halves, like we did our first [against Kansas]," Pelphrey said. "We're building for a day when we're in the SEC or NCAA Tournament, or maybe trying to win an SEC championship. Hopefully, in the last three minutes we'll have a chance to win the game. We won't win it if we foul a bunch, let the other team score and hit 3s or if we miss free throws and turn the ball over."

This is not just a reaction to Kansas, either. Consider the last three games.

* The Gators had an eight-up lead with three minutes to go, but needed a free throw (one of two) from forward Dorian Finney-Smith with 1.1 second left to defeat Florida State 67-66. The Seminoles, though, nearly threw in a halfcourt shot at the buzzer.

* UF had a 1-point lead with time expiring at Connecticut, when a Husky crashing the glass tipped Shabazz Napier's badly missed shot back to Napier, who hit a 15-footer at the horn to hand the Gators a crushing 65-64 loss. If a Gator gets even a finger on the ball, Florida wins.

* Against Kansas, UF was leading 56-44 with just over three minutes to go, then let freshman phenom Andrew Wiggins get loose for a trio of 3-pointers to put some drama in the game. Fortunately for the Gators, they hit enough free throws to keep the margin from shrinking below four, but that was after building an 18-point first half lead.


During Thursday's practice, Donovan called for better communication, more aggression and even an element of violence in the way his players competed.

Yes, against one another.
Reminders about fundamental principles -- boxing out, securing loose balls and proper defensive positioning -- were a constant.

"Our defense? Yeah, it was bad," senior point guard Scottie Wilbekin said. "It's gonna get better."

Memphis will be an ideal measuring stick. The Tigers are explosive, especially on the perimeter, and have a pair of outstanding frontcourt players in sophomore Shaq Goodwin and freshman forward Austin Nichols.

Neither of those names, nor any other Tiger, was mentioned Thursday.

That's one of the blessings rolled into the tedium of December, when the Gators play just five games the entire month (after playing seven in the last three weeks of November). There's time to work on things, rather than prepare for opponents.

"We accomplished our main goal against Kansas, which was to win the game," Pelphrey said. "But there's something about learning lessons -- and it's good to learn them in a win."

Time to soak in the knowledge and apply it.