Chris Harry's Blog

Harry Fodder
Wednesday November 13, 2013 Dara Torres floored by NCAA Silver Anniversary honor ... and its connotation
Updated: 9:21am, November 14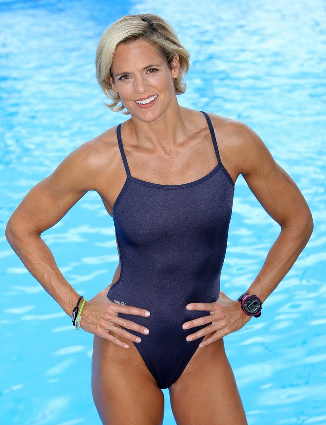 GAINESVILLE, Fla. -- Dara Torres was somewhat taken aback by the phrasing of the question.

"Why did you have to put it like that?" she asked. "A quarter-century? That makes me feel old."

The feeling, no doubt, was fleeting.

Torres may be 46 years old, but she's without question one of the fittest and most famous 40-something athletes of all time.

She also was in pretty good shape back in her University of Florida days, winning national championships, garnering 28 All-America accolades and twice being named the Southeastern Conference Swimmer of the Year. She even played a season on the UF volleyball team.

Since last competing for the Gators in 1988, Torres became a fixture -- make that marvel -- on the international swimming scene, capturing 12 Olympic medals, including four golds, and becoming the first woman past the age of 40 ever to swim at the Olympics.

So it's been quite a (pardon the term again) quarter-century. The folks in Indianapolis who govern collegiate sports obviously thought so when they tabbed Torres this week as one of the six recepients of the NCAA's 2014 Silver Anniversary Awards.

Torres was recognized along with UCLA quarterback Troy Aikman, USC quarterback Rodney Peete, Yale basketball player Earl Martin Phelan, Brown offensive lineman George Pyne and New Hampshire lacrosse and hockey standout Katey Stone for their achievements in the 25 years since wrapping their collegiate careers.

"Each of those other names are who's-who athletes in their respective sports, so it's an incredible honor," Torres said in a recent chat with GatorZone.com. "When I heard that I was being nominated, I realized how prestigious it was and kind of just blew it off and said, 'No way am I going to be one those people.' Now, I'm just so humbled to be in that company and recognized for this award."


The springboard to it all was UF. Torres (pictured left in her Gator days) grew up in Los Angeles, where she was a swimming prodigy who won a gold medal in the Olympic Games in her hometown as a member of the United States' 4x100 freestyle relay team.

Then it was off to join UF coaching legend Randy Reese.

"I took my official visit during spring break, so there really wasn't anybody there," Torres recalled. "I came back in the fall, this girl from L.A., and was just blinded by the orange and blue. To me, it was a small college town that went crazy for their Gators. It was a culture shock."

So was swimming for Reese, the UF Hall of Famer who made the Gators one of the nation's most dominant programs.

"I had some tough years there, training and all, and Randy was a really, really tough coach," she said. "It was different than what I was used to growing up and in high school, but once I got used to it I chalked it all up to experience. Those years, the college years, can really shape you as a person."

Torres still recalls fondly the late-night trips to the now-defunct Skeeter's, but suffice to say the biscuits and gravy -- "Loved 'em," she said -- did not shape her in the literal sense.
A remarkable fitness regimen did.

Torres maintained her torrid training to qualify for the Olympics in 1992, 2000 and 2008, then missing a spot on the 2012 team -- at the age of 45 -- by .09 seconds in the 50-meter freestyle.

These days, she remains active with her sponsorships and motivational speaking engagements, but devotes most of her time to raising her daughter Tessa-Grace.

"I've been blessed," Torres said. "I've been able to do something I really love and also been able to be a great a parent, which is the most important thing in my life. I'm proud of that."

Now she'll have something else to be proud of when the Silver Anniversary Class of '14 is honored in January at the NCAA's convention in San Diego.

A quarter-century in the making.