Chris Harry's Blog

Harry Fodder
Monday October 21, 2013 Young NBA Gators (Beal, Murphy Calathes) looking to make their mark
Updated: 4:35pm, October 21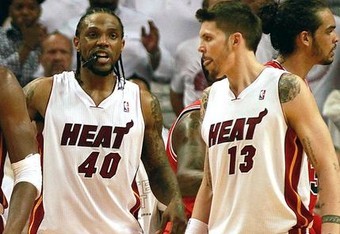 GAINESVILLE, Fla. -- While Billy Donovan's practices proceed with caution on the injury front -- the team is taking Monday and Tuesday to rest some sore and healing bodies -- it seemed like a good time to check in on a trio of former Gators looking to make their mark in the NBA.

When the NBA opens the 2013-14 regular season Oct. 29, league rosters are expected to be dotted with 12 former UF stars. That's two more than last year, with the additions of rookie forward Erik Murphy and point guard Nick Calathes, who will make his NBA debut after playing four seasons in Greece.

The 2012-13 NBA season featured a slew of Billy D products in the news, with Mike Miller and Udonis Haslem (right) going back-to-back with the Miami Heat, Chandler Parsons' mega-breakout year in Houston, Joakim Noah and David Lee named the all-star team and Bradley Beal garnering all-rookie honors.

This post focuses on Beal, Calathes and Murphy -- the newest of the Gators in the NBA -- and how they've fared thus far in the exhibition season.



BRADLEY BEAL
Team: Washington Wizards
Background: The No. 3 overall pick in 2013 draft after his All-Southeastern Conference freshman season, Beal got off to a slow start as a rookie and after finding his groove missed 26 games due to injuries, including a badly sprained ankle. He eventually averaged 13.9 points on 41 percent shooting from the floor (38.6 from the arc) to go with 3.8 rebounds and 2.4 assists. Beal's game expanded -- along with the Wizards' success -- when franchise point guard John Wall joined the team after missing the first 33 games due to a knee injury. With Wall and Beal in the lineup, Washington went 16-9. When one of them did not play, the Wizards were 13-44.
Update: Beal hung 29 on the Miami Heat in just three quarters last week -- a mere 10 of 15 from the floor, 4-for-8 from the arc and perfect in five shots from the line -- then went for 30 at Rupp Arena Friday against the New Orleans Pelicans. Through five preseason games, he's averaging 21.4 points, shooting 51 percent from the floor, including 44 percent from 3-point range. Assuming Beal and Wall can stay healthy, the Wizards will have one of the league's most dynamic young backcourts; maybe for years to come.
Fun fact: Beal only turned 20 in June and reported for training camp having actually grown an inch. He now goes 6-foot-5 and 207 pounds.
ERIK MURPHY
Team: Chicago Bulls
Background: The Gators sharp-shooting "stretch-4" was taken in the second round (49th overall) of the June draft.
Update: By all accounts, Murphy is expected to make the Bulls' roster this season. He's been slow to find that 3-point touch that made him so dangerous at Florida, however. In fact, Bulls coach Tom Thibodeau called out both Murphy and fellow rookie Tony Snell, the first-round pick of New Mexico, over the weekend as to their progress to date. "They have a long way to go," Thibodeau said. Through five games, Murphy is averaging 3.0 points on 27-percent shooting overall and 28.5 percent from 3-point range. His rebound numbers stand at 3.2 per game. Murphy's shooting accuracy needs to improve. That's what he was drafted for. Given his track record, look for it to get better.
Fun fact: Murphy is the oldest of three sons whose father, Jay, was one of the greatest players in Boston College history. Middle son Alex played at Duke last season. Pretty good, huh? Well , younger brother, Tomas, is in eighth grade, already stands 6-7 and is thought to be on track to be the best of the bunch.
NICK CALATHES
Team: Memphis Grizzlies
Background: During the 2007-08 and '08-09, Calathes was the only player in the country to average at least 15 points, five rebounds and six assists a game. After leaving UF following his sophomore year, Calathes was drafted in the second round by the Minnesota Timberwolves, then traded to the Dallas Mavericks. Calathes, opted to play in his native country of Greece, where he averaged 7.3 points, 2.0 rebound and 3.3 assists during his career with Panathinaikos (3 seasons) and Lokomotiv (1). In July, Dallas traded the rights to Calathes to Memphis, which signed him two a two-year deal.
Update: After dishing 10 assists in a win Friday night at Atlanta, Calathes is averaging 5.7 points, 3.2 rebounds and 5.3 assists for the Grizzlies, with an assist-to-turnover ratio approaching 3-to-1 (32-12).
Fun fact: Last week, Calathes made good on his childhood dream of playing professional basketball in Orlando. The two-time Florida "Mr. Basketball" from Winter Park Lake Howell High, grew up cheering for the NBA Magic and in his first game facing the Magic scored two points, dished five assists and had no turnovers.