Chris Harry's Blog

Harry Fodder
Monday August 26, 2013 Meet Toledo (hodgepodge and fun style)
Updated: 4:38pm, August 27
GAINESVILLE, Fla. -- Jamie Farr put the Toledo Mud Hens in mainstream television lexicon with his references -- not to mention the jersey and cap of the Detroit Tigers' Triple-A affiliate -- during his years playing the cross-dressing Cpl. Klinger on M*A*S*H in the 1970s and '80s.

Now Farr's hometown, where for years he famously stages an LPGA Tournament, has been in the mainstream of Gators fans for weeks, as 10th-ranked Florida sets to open its 107th football season Saturday against the Toledo Rockets of the Mid-American Conference.

Toledo, out of the Mid-American Conference, will make history this weekend, taking the field for the first time against a Southeastern Conference opponent in the program's 96-year history.
That history, by the way, includes a 35-game winning streak from 1969-71 that is tied for the second-longest in NCAA Division-I history.

At home, the Rockets go by "UT."
Sound familiar?
Well, this UT -- at least right now -- might be better than the one the Gators play annually.

The Rockets went 9-4 last season and return four All-MAC players, including a trio of explosive seniors in quarterback Terrance Owens (2,707 yards pasthe sing, 395 rushing in 2012), tailback David Fluellen (1,498 yards, 13 TDs) and wide receiver Bernard Reedy (88 catches, 1,113 yards, 6 TDs).

The game will mark the 20th time Toledo has played a ranked opponent (Rockets are 7-12, with a win over No. 18 Cincinnati last season), but just the eighth time facing a team in the top 10 (UT is 1-6 in those previous settings).

Toledo lost to Utah State 41-14 in the Famous Idaho Potato Bowl last Dec. 15.


OK, so there you have it. Some basic nuts and bolts about this week's opening-day opponent.

But since the Rockets are total strangers to the Florida scene, it's only right to provide some not-so-basic nuts and bolts -- some of which will actually have to do with football.

Ladies and gentlemen, let's talk Toledo.

Population (according to 2010 Census): 651,429 (4th-largest city in Ohio)

University of Toledo (pictured right)
Founded: 1872
Enrollment: 23,000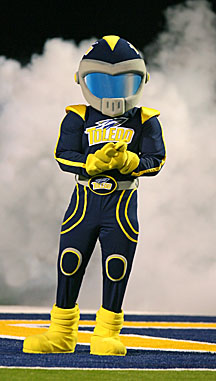 Mascot: Rocky the Rocket


Most Famous Alum: Danny Thomas, the iconic television star of the 1950s and '60s who starred in "Make Room For Daddy," and the father of "That Girl" Marlo Thomas. He also founded of the St. Jude Children's Research Hospital.
Most Famous Former Football Coach: No need to adjust your computer screen. Yes, that's Nick Saban, who went went 9-2 in 1990, his lone season as head coach of the Rockets, then took a job as defensive coordiantor with some dude named Bill Belichick and the Cleveland Browns.
Second Most Famous Former Football Coach: Gary Pinkel, who followed Saban at UT and went 27-8-1 over three seasons for the Rockets. Pinkel is now coach at Missouri. That makes two current SEC coaches ("Rocket Men," if you were) who came up through the Toledo ranks.


Most Famous Former Football Player: Emlen Tunnel, who suffered a broken neck at UT that was serious enough to prevent him from enlisting in World War II. After a stint in the Coast Guard, Tunnel went to play at Iowa, then for the New York Giants and Green Bay Packers, for whom he was an eight-time All-Pro, won two NFL championships and was named to the 1950s All-Decade Team). In 1967, Tunnell became the first African-American enshrined in the Pro Football Hall of Fame.
Best Current Player in the NFL: Lance Moore, the New Orleans wide receiver, who has caught more with more than 300 career receptions (most from Drew Brees) and snared a famous two-point conversion in the Saints' Super Bowl XLIV.
Most Traveled Current NFL Player: Quarterback Bruce Gradkowski, who threw for almost 9,200 yards and 85 touchdowns for the Rockets (many of those to Moore) and was drafted in the sixth round by Tampa Bay in 2006. He's currently with the Pittsburgh Steelers, with previous stops in Cincinnati, Oakland, Cleveland and St. Louis.
Now, Gators fans, don't you feel more informed?

Note: 
Gators fan will be quizzed on this information the week of the Nov. 23 Georgia Southern game.