Chris Harry's Blog

Harry Fodder
Wednesday August 7, 2013 Pease talks wide receivers (young and old)
Updated: 4:16pm, August 7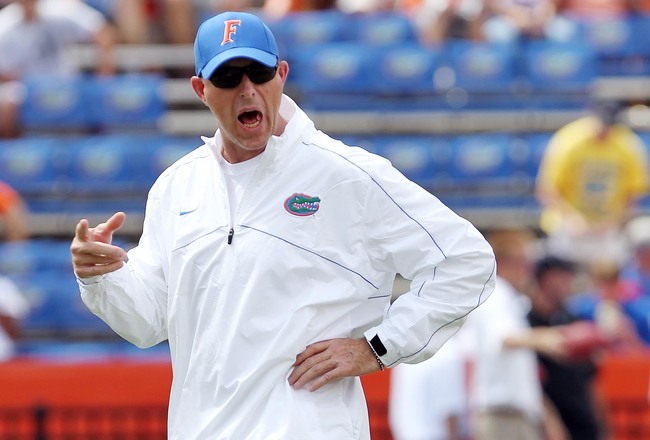 GAINESVILLE, Fla. -- The hardcore Florida fans know the names and would love nothing more if fans throughout the Southeastern Conference became familiar with two or three of the team's five true freshmen wide receivers.

But as much as those faithful to the orange and blue would love to accelerate the development of a rookie receiving corps rated by scouting services as the best in the nation -- especially following word of Andre Debose's season-ending knee injury Tuesday night -- there is a process.

And there is no cheating that process.

"You've got to be smart," UF offensive coordinator Brent Pease said Wednesday. "They've all got talent, but at the position [just] lining up is sometimes hard to do because -- are you going right or left? And motions are involved. As coaches, we've got to control that and give them the opportunity to be successful, which kind of cuts down on what we like to do sometimes."

Translation: Before any one or a combination of Alvin Bailey, Ahmad Fulwood, Marqui Hawkins, Demarcus Robinson and Chris Thompson are turning heads in the "Swamp" this season, their heads have to stop spinning on the practice field.

Make no mistake, each of them has been on the receiving end of, shall we say, constructive criticism by way of new position coach Joker Phillips through the first few preseason practices.
There will be more.
"They've got to understand the moving parts in front of them," Pease said. "Being a receiver, you've got recognition on who you're got to block; are you front side or back side? You've got to have a good idea of coverages. Sometimes, I think in high school, you don't have to worry about that. In college, you do."

The Gators, though, only have a few veteran wideouts who have been there and done it, starting with Quenton Dunbar, whose 36 catches, 383 yards and four touchdowns topped the unit last season.

The next productive returnee on the UF 2013 roster? Debose and his three catches for 15 yards last season.

Is it any wonder senior all-purpose guy Trey Burton is working mostly at wideout in camp.

"The younger guys haven't been here, but the older guys have [the offense] down pretty well," Burton said of a group heading into its second season in the Pease system, the first time since 2009 that UF has had the same offensive coordinator for back-to-back years. "Knowing the stuff, knowing what to do and where to go, that's got to help."

The Gators will need the likes of returnees Solomon Patton, Latroy Pittman, Raph Andrades and, yes, cornerback Loucheiz Purifoy to announce themselves as big-time playmakers.

"The older guys will step up," Dunbar said. "The younger guys will fill in when they're needed."

It's possible (if not likely) a couple will be needed sooner rather than later, but there's no blueprint for a timeline to impact.

"It's more about repetition" than games," Pease said. "Games throw a little bit of a different perspective into it because they might know the plays, but then you throw in the 90,000 people out there. ... Some kids live for that moment. We have to see."