Chris Harry's Blog

Harry Fodder
Monday April 1, 2013 Some Elite Eight notes and leftovers
Updated: 7:03am, April 2
DALLAS -- Florida's defensive focus going into Sunday was clear, but wasn't going to be easy. Billy Donovan knew that.

The Gators set out to limit not only scoring options, but passing options for Michigan point guard Trey Burke, who likely will be named National Player of the Year at the Final Four next weekend in Atlanta. He was the engineer who drives the Wolverines' offensive locomotive.

"It's all a result of Burke," Donovan said.

The UF coach said that after Michigan's 79-59 blowout win in the NCAA South Region at Cowboys Stadium even though the Gators held Burke to 5-for-16 from the floor and 1-for-5 from 3-point range. Burke's ability to get into the lane, force a defense to collapse, then get the ball out and rotating proved the difference.

"The shooter, I can't pronounce his name, he just knocked down shots," senior guard Kenny Boynton said. "He shot the lights out."

The name was Nik Stauskas, and, yeah, 6-for-6 from 3-point range qualifies for "lights out." He was 5-for-5 in the first half, staking the Wolverines to a 47-30 lead. That was the most points the Gators had surrendered in a first half since giving up 53 at Georgia on Feb. 14, 2009.

Stauskas came into the game at 42 percent for the season from the arc and just 2-for-16 over his last four games. Burke and his teammates found him at the perfect times and he made the Gators pay.

UF had a similar point guard challenge Friday against Florida Gulf Coast's Brett Comer, another guy adept at driving and finding the open man. The Gators smothered Comer and forced him into nine turnovers, but they could not defend Burke the same way, Donovan explained, because Comer can't shoot 3s all that well.

"He has such deep range," Donovan said of Burke, whose 28-footer (and 23 second-half points) helped oust top-seeded Kansas two days earlier. "Now you're playing him on the 3-point line, with his speed and quickness. When he turns the corner you have to provide help. ... Some 3s Stauskas got off were our fault and some were really, really good offense by them."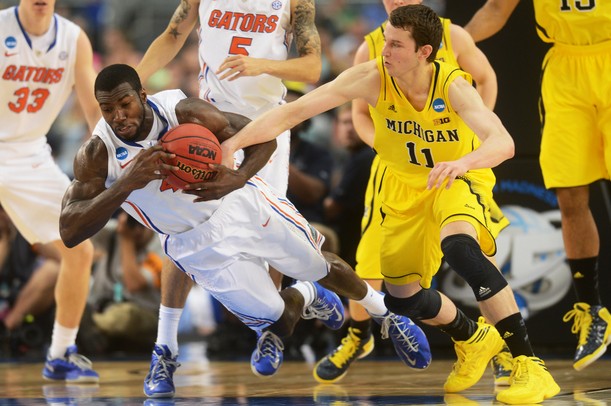 STAYING OR GOING?

Before he'd even had time to process another unanswered knock on the Final Four's door -- his third in as many seasons -- junior center Patric Young was peppered with questions in UF's post-game locker room regarding his possible early entry into the NBA draft.

Sunday's outcome, he said, had no bearing on his decision.

"I'm just going to catch up on school, take a little bit of time away, talk to my family," said Young, whose season numbers showed 10.1 points on 58.6-percent shooting, 6.3 rebounds and 58 blocked shots. "I'll do whatever I feel is best."

Most draft projections have Young as a mid- to late-round selection in the second round. The two-time Southeastern Conference Scholar-Athlete of the Year very well could opt to return to school, but has not discussed the future with his coaches.
NOT-SO GREAT LAKES STATE FOR GATORS
Perhaps Florida should avoid facing teams from Michigan in future NCAA tournaments. Of UF's eight double-digit losses in tournament play, four of the eight have come against either Michigan or Michigan State.

Margin Score Year Site Comment
23 Michigan 108, UF 85 1988 Salt Lake City Glen Rice's 39 rips Gators
22 Michigan State 66, UF 46 2003 Tampa, Fla. Rematch of 2000 NCAA title game
Colorado State 68, UF 46 1989 Dallas SEC champs ice-cold vs Rams zone
21 Temple 75, UF 54 2001 New Orleans Gators trailed by 20 at halftime
20 Michigan 78, UF 58 2013 Dallas Nic Stauskas 6-6 from 3
15 Manhattan 75, UF 60 2004 Raleigh, N.C. Lowest seed (12) ever to beat Gators
13 Michigan State 89, UF 76 2000 Indianapolis Gators first NCAA title game
11 Villanova 76, UF 65 2005 Nashville, Tenn. Final game for Lee, Walsh, Roberson




TOUGH NIGHT FOR COMBO

Two weeks earlier, the Gators played Ole Miss in the Southeastern Conference Tournament championship game. In that one, point guard Scottie Wilbekin and forward Erik Murphy struggled offensively, combining to go 8-for-34 from the floor and 2-for-12 from the 3-point line.

Wilbekin-Murphy is an inside-out, pick-and-pop combination that UF needs, especially against really good teams that can score. Like Marshall Henderson and the Rebels. And the Wolverines.
Their output against Michigan was 1-for-17 from the floor, 0-for-2 from distance.

They weren't much better Friday against FGCU (5-for-18, 0-4).

For the two regional games, the Wilbekin-Murphy combo shot 17 percent (six of 35).



MR. 2,000

In his final game as a Gator, Boynton scored 13 points, taking his career tally 2,033.

That turned out to be 57 points shy of the school scoring record of 2,090 held by forward Ronnie Williams (1981-84).

"I'm honored to have played for Coach Donovan," Boynton said after the game. "I've played with great players, I've met some great people. They're players that play college basketball and never make the NCAA Tournament, so I'm honored to make it to three straight Elite Eights. I'm proud of my team to come this far."