Chris Harry's Blog

Harry Fodder
Sunday March 31, 2013 Florida vs Michigan pre-game Elite Eight breakdown
Updated: 2:03pm, March 31
ARLINGTON, Texas -- Seems like last year.

And the year before.

The Florida Gators (29-7) hope they're not saying the same Sunday afternoon when they try to reverse their fortunes in NCAA Elite Eight play in taking on the Michigan Wolverines (29-7) in Sunday afternoon's South Region championship game at Cowboys Stadium.

As far college programs go, Florida and Michigan are big-ticket attractions, but this will mark just the third time the teams have played in men's basketball and the inside-the-game dynamic is mind-blowing.

The Wolverines will roll out the nation's second-most efficient offense as it relates to the points-per-possession advanced metric. UM scores at a 1.135 clip every time it has the ball. Only Gonzaga was better this season and the Bulldogs, seeded first in the West, did not survive the tournament's first weekend.

The Gators will counter with the nation's second-most efficient defense, allowing just .838 points per possession. Only Stephen F. Austin, of the Southland Conference, was better and that team did not make the NCAA field.

Something has to give.

In the meantime, allow me to breakdown five key areas, any one of which could determine the outcome that puts UF in its first Final Four since 2007 or leaves the Gators one win shy -- and devastated yet again -- for the third year in a row.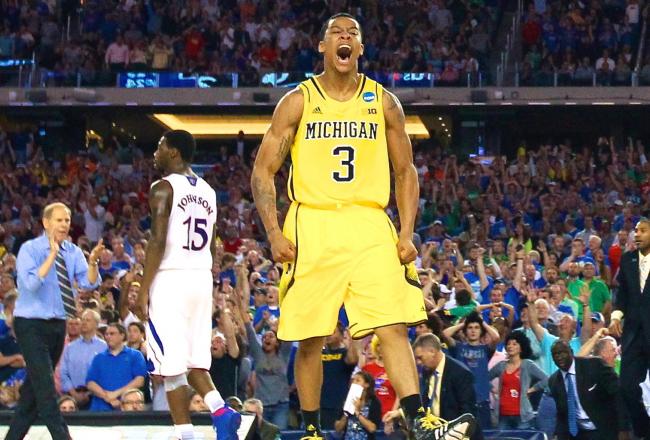 The Backcourts
The Wolverines have a huge advantage in Trey Burke -- and that would be the case no matter who they were playing. The 6-foot, 190-pound sophomore is the favorite to be named National Player of the Year next week. He is a scorer (18.9 ppg) and a maestro facilitator (6.8 apg) who can do damage in both categories from anywhere on the floor and is most deadly when it reaches the lane. He will drive and score, drive and leave for cutters, and drive and kick out to 3-point shooters. He is the No. 1 concern for the Gators and containing him -- they're not going to stop him -- goes far behind the responsibility of UF counterpart Scottie Wilbekin. Oh, Wilbekin will battle and he'll fight doggedly through UM's pick and rolls, but the Gators have to be on point with help defense and recovery when Burke throws out of or splits double- and triple-teams. If not, they run the risk of Burke, who had 25 in the second half Friday against Kansas, and backcourt mates Tim Hardaway Jr. (14.8 ppg, 39 percent from 3-point range) and deadly distance shooter Nik Stauskas (11.3 ppg, 42.9 from 3) being in sync and in rhythm. Not good. And speaking of Wilbekin, he's the one charged with making sure UF is moving and sharing the ball; preferably in a manner unlike what was on display Friday against Florida Gulf Coast. The Gators didn't just fail to move the ball against the Eagles, they didn't move their bodies, with a few exceptions from senior Mike Rosario, who has 40 points the last two NCAA games. Kenny Boynton had another tough shooting night (2-for-6, 0-for-3) against FGCU, but he had a couple nice plays attacking the basket. Against Michigan's shaky interior defense there will be some openings, so Wilbekin and his backcourt mates need to exploit them. If they can make some 3-pointers (that FGCU 4-for-15 stuff isn't going to cut it), they'll do their bigs some favors, too.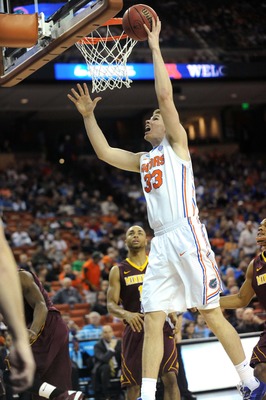 The Frontcourts
Burke is the key to the Wolverines. Period. If the Gators have an X-factor in their favor its 6-10 forward Erik Murphy and his ability to stretch a defense with his 3-pointer shooting (45.9 percent). Murphy, though, is coming off one of his least-productive games of the season (2-for-7 from the floor, only one attempted trey, just 4 rebounds) and it goes without saying a similar performance will undermine Florida's chances to win. If Murphy is making shots (heck, even attempting them), the Wolverines have to send someone to the arc to check him. That guy likely would be Glenn Robinson III (11.1 ppg, 5.6 rpg, 56.9 percent from field), who at 6-6 is really a two-guard playing power forward. In the post, UF's 6-9, 260-pound center Patric Young will get his jump hooks (he needs to make them after going 2-for-7 vs FGCU), but the Wolverines have a red-hot pivot man in Mitch McGary (7.3 points, 6.1 rebounds, 60.4 percent from the floor), who had 23 points and 14 rebounds against a huge and defensive-minded Kansas team Friday. McGary loves to drive to his left and float around the basket for putbacks. Young has became an excellent defender, a disciplined one too, but both he and Murphy also have to be on high-alert when it comes to Burke's drives to the basket. Yes, they can provide help on the double-team, but at what price?



The Benches
Florida has an edge here for no other reason than Michigan's starters play heavy-duty minutes. How 'bout four UM starters over 31 minutes and just one backup who plays more than 17. The Gators have three backups who play more than 17 minutes and junior forwards Casey Prather and Will Yeguete both loom as huge factors in this game. Prather and Yeguete can guard multiple positions, but Prather figures to log a bunch of minutes in matchup situations against either Robinson or Hardaway. UF will roll both players in out and utilize the depth in press defense. Gators freshman Michael Frazier was 0-for-5 in the tournament going into Friday, but knocked down his first two 3-point shots -- back to back, no less -- when Florida was down 10 early against FGCU. Huge shots. The Gators could use some more of that. The Wolverines will go to Jordan Morgan and Jon Horford (yes, Al's baby brother) for frontcourt minutes, but the player to be leery of off the bench is guard Spike Albrecht. He'll give Burke a minute here and there (not much more) and look for 3-pointers at all times (11-for-25 on the season, 2-2 in tournament).



The Coaches
Florida's Billy Donovan improved to 31-10 in NCAA play Friday. That's a winning percentage of .756 bested by only Duke's Mike Krzyzewski and Southern Methodist's Larry Brown among active college coaches. This will mark Donovan's seventh Elite Eight game and he's 3-3 coming in, including those back-to-back late-game daggers against Butler (2011) and Louisville (2012) the last two years that kept him from adding to his total of three Final Fours. Michigan's John Beilein is one of nine coaches to take four schools (Canisius, Richmond, West Virginia and Michigan) to the NCAA Tournament. [Note: Lon Kruger is one of those nine] He is 11-7 in tournament play and this is his second trip to the Elite Eight. His Mountaineers team of 2005 lost to Louisville in the West Region final.


The Intangibles
Seven of Florida players bear the scars of the back-to-back losses in the Elite Eight; both of them after blowing double-digit leads inside of 10 minutes. Whether that's motivation or a curse probably depends on the individual. In the grand scheme, this game has nothing to do with those, but psychologically? Who knows. UF also bears the cross of those close-game losses of the 2012-13 season: 0-6 in games decided by six points or less. The Wolverines, on the other hand, went 5-3 in the same scenario, including Fridays comeback from 10 down in the final 2:20 to beat No. 1-seed Kansas. Michigan starts three freshmen. That's a lot, especially against an opponent with a combined 71 games of NCAA experience. How will some of those young guys handle the big stage? Especially long minutes against a deep team?