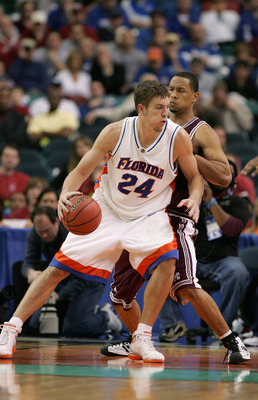 ON THIS DATE IN GATORS NCAA HISTORY: March 21, 2003
David Lee scored a career-high 23 points and Anthony Robertson had 16 more to lead the second-seeded Gators past 15th-seeded Sam Houston State 85-55 in opening-round play of the South Region at the St. Pete Times Forum in Tampa.

Making its fifth straight NCAA Tournament appearance, UF scored nine of the final 10 points of the first half to build a 14-point cushion on the Southland Conference-champion Bearkats.

Lee, the sophomore from St. Louis, went 9-for-12 from the floor, grabbed six rebounds and also had three assists. Roberson was 5-for-7 from 3-point range. Senior guard Justin Hamilton had 11 points and four assists.