Chris Harry's Blog

Harry Fodder
Wednesday February 27, 2013 Prather, Yeguete and Frazier cleared for practice Thursday
Updated: 5:16pm, February 27
GAINESVILLE, Fla. -- At least some good news came out Florida's defeat Tuesday night at Tennessee.

Junior forward Casey Prather's status, that is.

Prather (below) left UF's 64-58 with just under three minutes to go after taking a blow to the face that bloodied the floor at Thompson-Boling Arena. The gash, incured when Prather's face bounced into the back of teammate Mike Rosario's knee in going after a loose ball, required five stitches, but won't require any loss in playing time. Prather was medically cleared Wednesday.

And he wasn't the only Gator smiling in the training room.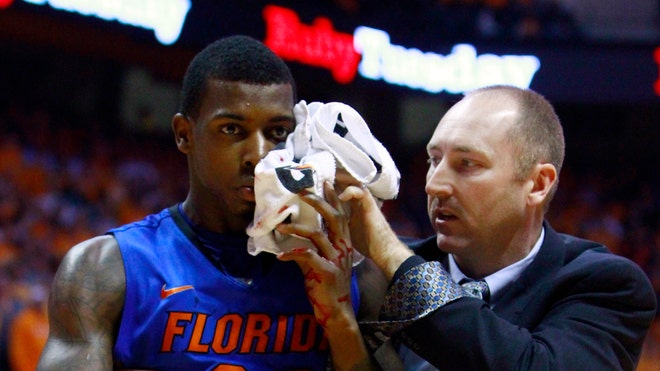 Junior forward Will Yeguete, sidelined for six games following knee surgery, and freshman guard Michael Frazier II, who suffered a concussion last Saturday against Arkansas, were given clean bills of health from the UF medical team and can both join Prather for full-contact practice Thursday.

"They'll all be out there," said trainer David "Duke" Werner (pictured left with Prather).

That means eighth-ranked Florida (22-5, 12-3) should have its complete eight-man rotation Saturday when it hosts Alabama (19-9, 11-4) at noon with first place in the Southeastern Conference on the line.

Since Yeguete limped off the floor after playing one minute of an eventual loss at Arkansas on Feb. 5, the Gators are 4-3. Before undergoing surgery to remove pieces of floating cartilage in his right knee, Yeguete was averaging six points, 6.8 rebounds, shooting 58 percent from the floor and doing his normal (and invaluable) damage on defense, especially in the press.

Without Frazier, the SEC's top 3-point shooter in league games at 54.9 percent, Florida went 4-for-17 from the arc against the Volunteers, including 1-for-10 in the second half.

Before his collision, Prather was having another solid game off the bench Tuesday, scoring 10 points on 5-for-7 shooting in 17 minutes. He's averaging 6.7 points and making 67 percent of his shots in SEC play.

Prather suffered two concussions during the preseason (which cost him the first five games, including the Georgetown warship opener) and a sprained ankle early in the SEC season at LSU (another five games). His teammates were hoping Prather's latest brush with bad luck wasn't going to be another setback.

"The guy has been through so much," teammate and classmate Patric Young said. "It was tough seeing him go out like that."

But it'll be good seeing him on the court Thursday.

And Yeguete. And Frazier.