Chris Harry's Blog

Harry Fodder
Wednesday February 20, 2013 Charting the Gators: Top 20 RPI teams on the road
Updated: 10:29am, February 21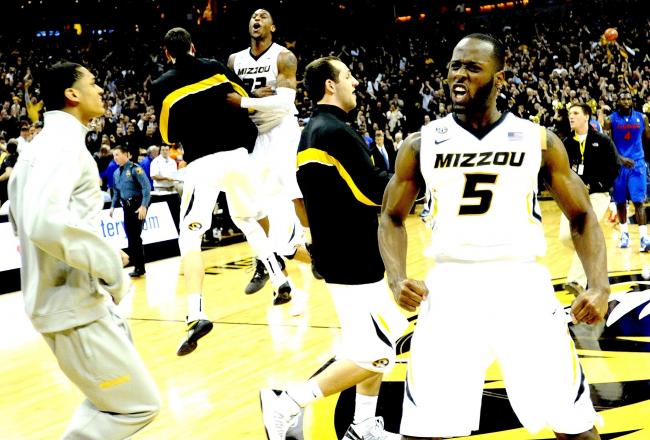 GAINESVILLE, Fla. -- Wednesday was a day off for the Florida basketball team, a respite the Gators no doubt needed after crumbling down the stretch in a maddening 63-60 defeat at Missouri.

Losing at Mizzou Arena -- where the Tigers are 15-0 this season, 29-1 under Coach Frank Haith and 82-4 over the last five seasons -- hardly rates as a bad loss.

The way the fifth-ranked Gators lost, though, was bad.

And it was awfully familiar to some recent high-profile defeats, which made it even worse.

Now, as UF (21-4, 11-2) reconvenes Thursday in anticipation of Saturday's visit from Arkansas (16-9, 7-5), here's some perspective about playing on the road.

Um, it's hard.

Below is a chart of the nation's Top 20 teams, according to the Ratings Percentage Index (RPI) -- heading into Wednesday night's games -- that is so pivotal in seeding the NCAA Tournament.

The Gators, who have played the nation's 19th-hardest schedule by RPI standards, remained at No. 4 overall after falling to 7-4 on the road this season. Those four losses -- at Arizona, against Kansas State at Kansas City (which the NCAA counts as a home game because K-State controlled the tickets), at Arkansas and at Mizzou -- came against opponents who are a combined 45-4 at home this season.

That's hardly embarrassing, but it's also not an excuse for blowing late double-digits leads like the Gators did at Tucson and Columbia, especially after UF coach Billy Donovan challenged his team leading up to Tuesday's game to do something it had not done this season: go on the road and beat an NCAA Tournament team on its floor.

UF had a chance -- a great one -- and could not finish.

More than likely, it was the Gators' last opportunity to ring up a quality, top-50 RPI road win, given all that roadies remain on the regular-season schedule are games at Tennessee (No. 63, but maybe finding its stride) next Tuesday and at Kentucky (45th and spiraling) in the regular-season finale.

As of Wednesday, Florida was one of five teams in the RPI Top 20 without a win on the road against a top-50 team. One of those five, by the way, is top-rated Duke.

Below is a look at how the nation's Top 20 RPI teams have fared away from home, with additional breakdown of Southeastern Conference teams. Only one SEC team, Texas A&M, has beaten a top-50 RPI team on the road this season. It's probably worth noting, though, that stat says more about the league's competitiveness top-to-bottom than its home-court advantages this season.


Rk Team W-L Road Pct. Vs RPI Top 50 (road wins)
1 Duke 22-3 3-3 .500 8-2 (none)
2 Miami 22-3 10-1 .909 7-1 (North Carolina, NC State)
3 New Mexico 22-4 6-3 .666 6-3 (Cincinnati, Boise State)
4 Florida 21-4 7-4 .636 5-3 (none)
5 Louisville 21-5 6-3 .666 6-4 (Memphis, UConn)
6 Kansas 21-4 5-2 .724 9-3 (Ohio St, K-State)
7 Syracuse 21-4 5-3 .625 4-3 (Louisville, Pittsburgh, UConn)
8 Michigan 21-4 4-4 .500 6-4 (Minnesota, Illinois)
9 Indiana 24-3 6-1 .850 6-1 (Ohio St, Michigan St)
10 Michigan St 21-5 6-3 .666 7-5 (Wisconsin)
11 Arizona 21-4 7-2 .777 5-3 (none)
12 Gonzaga 24-2 9-1 .900 3-2 (Oklahoma St)
13 Colorado St 19-4 5-4 .555 3-3 (none)
14 Marquette 19-6 3-5 .375 5-5 (Pittsburgh)
15 Minnesota 18-8 3-5 .375 4-6 (Illinois)
16 Georgetown 19-4 4-2 .666 5-3 (Notre Dame, Cincinnati)
17 Oklahoma 16-8 3-5 .375 2-6 (none)
18 UNLV 18-7 4-6 .400 4-5 (San Diego St)
19 Butler 21-5 6-3 .666 5-4 (none)
Kansas St 20-5 5-2 .714 5-5 (Oklahoma)

Rest of SEC
33 Missouri 19-7 1-6 .166 3-3 (none)
45 Kentucky 17-8 4-5 .444 0-3 (none)
52 Ole Miss 19-6 5-4 .555 1-4 (none)
59 Alabama 16-8 4-5 .444 1-3 (none)
63 Tennessee 15-10 2-6 .333 2-4 (none)
74 Arkansas 16-9 1-6 .142 3-3 (none)
75 Texas A&M 15-10 3-4 .428 2-4 (Kentucky)
104 LSU 15-9 3-7 .300 1-4 (none)
125 Georgia 12-13 3-5 .375 0-6 (none)
139 Vanderbilt 10-14 2-5 .285 0-5 (none)
192 S. Carolina 12-13 1-6 .142 0-3 (none)
216 Auburn 9-16 1-7 .125 0-5 (none)
228 Miss State 7-17 1-8 .111 0-5 (none)