Chris Harry's Blog

Harry Fodder
Sunday September 30, 2012 On this date in Gators history: Sept. 30, 1961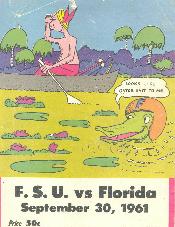 In the fourth meeting of the blossoming Florida-Florida State rivalry (game progame cover to the left), the Seminoles clawed their way to a 3-3 tie that for all intents and purposes served as a win for FSU.
Certainly a moral one.
An early blocked punt by the Seminoles set up their lone score, a 19-yard field goal from John Harllee. The Gators tied the game when Billy Cash kicked an 18-yarder late in the second quarter.
That was it for the scoring, as FSU held on despite just 108 yards of total offense. UF had 291 yards, but self-destructed with three fumbles.
The Seminoles celebrated on Florida Field like it was a victory. The Gators mourned it like a defeat. Or worse.
Gators Coach Ray Graves on the outcome?
"Feels like a death in the family," he said.