Chris Harry's Blog

Harry Fodder
Friday September 28, 2012 On this date in Gators history: Sept. 28, 1996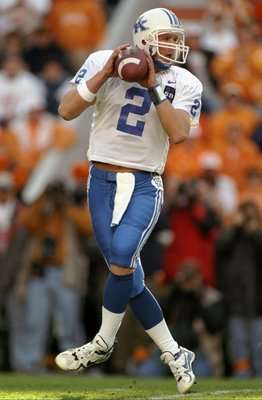 Kentucky came to Gainesville and brought heralded freshman Tim Couch, the No. 1-ranked prep prospect in the country the year before, to face the No. 1-ranked Gators.
Guess which No. 1 prevailed?
Make that dominated.
Couch (pictured left) worked mostly from the option and completed just six passes for 13. The Wildcats failed to make a first down in their first seven possessions.
Meanwhile, UF's Jacquez Green returned consecutive punts for touchdowns and Danny Wuerffel threw three first-half TDs in a 65-0 laugher.
Florida's point total nearly matched Kentucky's total yards for the game (67).