Chris Harry's Blog

Harry Fodder
Thursday September 27, 2012 On this date in Gators history: Sept. 27, 2008
Updated: 12:33pm, September 27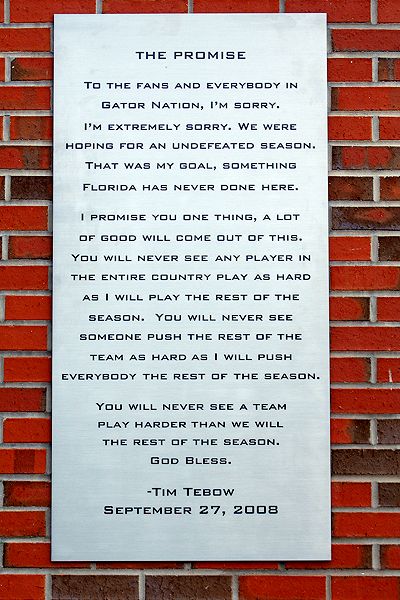 Tim Tebow stood at the podium and took all the blame in No. 4 Florida's stunning 31-30 home loss to Mississippi.
The reigning Heisman Trophy winner, whose attempted quarterback sneak on fourth-and-inches came up short with 40 seconds to play, answered a few questions about the game, gathered himself, then promptly apologized to Gators everywhere with a 107-word soliloquy that forever will have a place in UF lore.
"To the fans and everybody in Gator Nation ... I'm sorry," Tebow said, fighting back tears. "I'm extremely sorry. We were hoping for an undefeated season. That was my goal, something Florida has never done here. I promise you one thing: A lot of good will come out of this. You will never see any player in the entire country play as hard as I will play the rest of the season. You will never see someone push the rest of the team as hard as I will push everybody the rest of the season. You will never see a team play harder than we will the rest of the season. God bless."
With that, Tebow walked off the stage.
The Gators, of course, went on to win the national championship.
His words, known now as "The Promise," are engraved on a stainless steel plaque fixed to a brick wall of in the southwest corner of Ben HIll Griffin Stadium (right).
In case anyone doesn't remember the moment, check it out below.