Chris Harry's Blog

Harry Fodder
Sunday September 23, 2012 On this date in Gators history: Sept. 23, 1950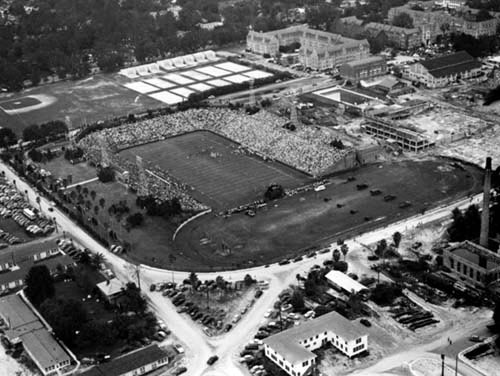 In the first night game ever played at Florida Field, new Coach Bob Woodruff led the Gators to a 7-3 victory against The Citade under the lights.
[That's the old school "Swamp" to the right -- way before it was called the "Swamp" -- and during the day, obviously]

The Bulldogs kicked a field goal in the third quarter to take a 3-0 lead, while Florida offensively behind struggled quarterback Haywood Sullivan. A defense led by the likes of Mikey Kelly, Bob Flowers and Charlie LaPradd kept things close and eventually made a key stop when the Gators had to have one.

That defense forced a Citadel punt late in the fourth quarter and Jack Nichols returned it 78 yards for the game-winning touchdown.