Chris Harry's Blog

Harry Fodder
Saturday September 8, 2012 On this date in Gators history: Sept. 8, 1990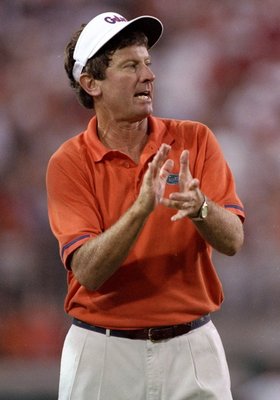 The dawn of a new era of Florida football was never more pronounced as Steve Spurrier return to his alma mater and treated a record home crowd to a 567-yard offensive eruption in a 50-7 debut rout of Oklahoma State.
"Hey, Coach Spurrier made a believer out of me," senior cornerback Richard Fain said. "It's been a long time since I saw our offense move up and down the field like that."
The onslaught, the 10th-highest offensive output in school history, was keyed by sophomore quarterback Shane Matthews, making his first career start, who completed 20 of 29 passes for 332 yards, with a touchdown passing and rushing.
The first play of the game was a 26-yard completion to wide-open wideout Ernie Mills, which jump-started a no-huddle, 5-play, 70-yard drive to a touchdown.
"I'll tell you something -- it was pretty easy out there," Matthews said. "The coaches had us really prepared."
Said the head (ball) coach: "The story was just that we were better than Oklahoma State and our guys played with tremendous effort."