Scott Carter's Blog

Carter's Corner
Tuesday May 10, 2011 Gators freshman RB Mike Blakely transferring
Florida head coach Will Muschamp announced Tuesday that freshman running back Mike Blakely is transferring.
Blakely enrolled at UF in January following a productive career at Bradenton's Manatee High. He underwent arthroscopic surgery on his left shoulder in late January and did not participate in spring practice.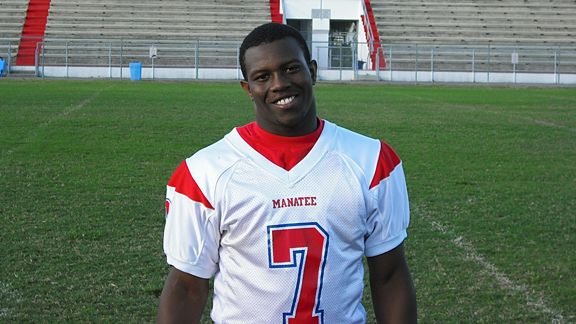 "Mike has come to the conclusion that the University of Florida is not where he wants to play football,'' Muschamp said. "We wish him the best of luck.''
Prior to Florida, Blakely had back-to-back 1,000-yard seasons at Manatee, including 1,400 yards and 23 touchdowns as a junior. Listed at 5-foot-9, 198 pounds, Blakely was in a group along with Mike Gillislee and Mack Brown that is competing for playing time behind starters Jeff Demps and Chris Rainey.
"Everyone at Florida has been very supportive of me in my time here and I'm thankful for the experience that I had, but I've made a decision to continue my college football career somewhere else,'' Blakely said.
Blakely participated in the U.S. Army All-American Bowl in 2011 and drew interest from several schools. He chose Florida over Auburn, Clemson, Mississippi, Tennessee, South Carolina, North Carolina and USC.
(Photo: Blakely at Manatee via ESPN.com)