Scott Carter's Blog

Carter's Corner
Wednesday March 5, 2014 Charting the Gators: Frazier is 10th Billy D player to score 30
Updated: 11:08am, March 5
GAINESVILLE, Fla. -- Don't look now, but Michael Frazier II just made another 3-pointer.

The Florida sophomore shooting guard rained 11 on South Carolina in a 72-46 road win Tuesday night. The performance, obviously, was significant for the team because it fueled a 22nd straight win and improved the top-ranked Gators to 28-2 overall and 17-0 in Southeastern Conference play. It was significant for Frazier because the 11 treys were the most ever by a player in an SEC game, breaking the mark of 10 held collectively by LSU's Chris Jackson, Auburn's Lance Weems and Kentucky's Jodie Meeks.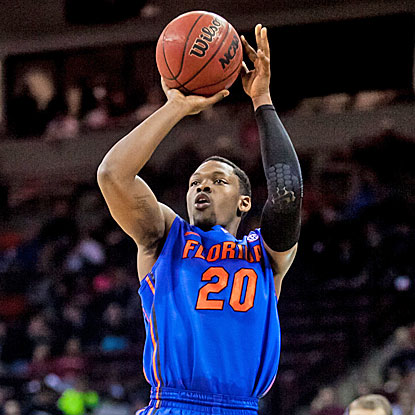 As for UF context, Frazier was 17 points shy of the school record for points in a single game held by Tony Miller, who went for 54 against Chicago State on Feb. 29, 1972 at the old Florida Gym. Frazier was three points shy -- and actually missed his last long ball attempt -- of becoming just the seventh Gator to hit the 40-point milestone and first since Eugene "The Dunking Machine" McDowell flushed 40 on Biscayne on Dec. 21, 1982.

It was the 102nd time a UF player went for 30 in a game, but just the 13th time during Coach Billy Donovan's 18 seasons. That's because the system Donovan runs -- when executed correctly, as in the way the Gators are doing it now -- is not designed to get a guy a shot; it's designed to get the best shot for any one of five guys on the floor.
Against a South Carolina defense that continuely left UF's 3-point assassin open from his most deadly long-distance spots, that guy was Frazier.
"That's why I love the offense," Frazier said after his lights-out performance made him just the 10th Donovan player to go for 30 and the first since Erving Walker in 2012. "It could be anybody. Tonight it was just my night."

Of course, it helps when what you do best counts for one point extra.

Here's the Billy D 30-point honor roll, led by guard Anthony Roberson (pictured right), who did it three times.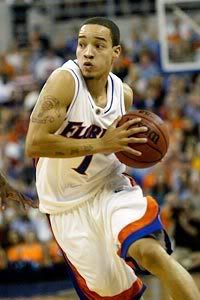 Pts Player Date Opponent Outcome
37 Joakim Noah March 1, 2006 Georgia W 77-66
Michael Frazier March 4, 2014 at South Carolina W 72-46
35 Anthony Roberson March 13, 2004 *vs Vanderbilt W 91-69
34 Anthony Roberson Jan. 12, 2005 at Auburn W 84-78 (OT)
33 Greg Stolt Dec. 10, 1996 South Florida W 85-53
Matt Walsh Dec. 21, 2002 at Miami W 94-93 (2OT)
Nick Calathes Feb. 10, 2009 at Kentucky L 68-65
32 Nick Calathes Jan. 3, 2009 North Carolina St. W 68-66
31 Jason Williams Dec. 9, 1997 at Texas L 85-82
Kenyan Weaks March 5, 1998 *vs Auburn W 68-64
Matt Bonner Dec. 8, 2001 at South Florida W 92-73
Erving Walker Feb. 18, 2012 at Arkansas W 98-68
30 Anthony Roberson Jan. 15, 2005 at Vanderbilt W 82-65

* Denotes SEC Tournament game