Tuesday January 21, 2014Bills QB Lewis credits Gators offensive coordinator Roper with helping advance his career
Updated: 4:26pm, January 21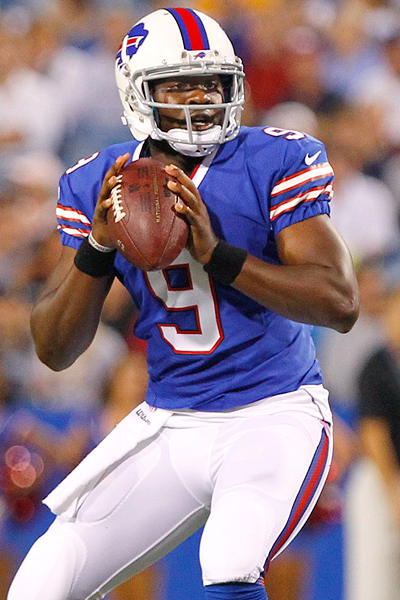 GAINESVILLE, Fla. – The talent was there. That was never an issue for former Duke quarterback Thaddeus Lewis.
Lewis produced from the start, first under Blue Devils offensive coordinator/quarterbacks coach Bill O'Brien in 2006. Lewis passed for 2,134 yards as a freshman – fourth all-time among ACC freshmen – and when O'Brien left after the season to join Bill Belichick in New England, Lewis put together another good season in 2007.
That season Duke's quarterbacks coach was Peter Vaas, who was at Notre Dame during Brady Quinn's final two seasons.
Still, in his third season as Duke's starting quarterback in 2008, Lewis (photo, left) took flight in a way he didn't know was possible. He was a second-team All-ACC selection and began to understand the game in a much deeper way in long study sessions with Kurt Roper, Florida's new offensive coordinator.
Roper arrived in 2008 when former Ole Miss coach David Cutcliffe, Roper's mentor, replaced Ted Roof as Duke's head coach and began the process of turning the Blue Devils from ACC bottom feeder to a 10-win team in 2013.
"First of all, he's a great teacher,'' Lewis said. "He teaches them the game and that's what a lot of quarterbacks don't get at the college level, being taught defenses. Before you learn and implement his offense, you have to learn defenses. I didn't understand that as a junior in college, but it paid dividends my senior year."
Lewis had the best season of his college career in 2009, his second working with Roper. Lewis threw for 3,330 yards, 20 touchdowns and eight interceptions. At 6-foot-2 he was considered undersized in the NFL scout's bible.
Lewis went undrafted, signed as a free agent with the Rams, made stops in Cleveland and Detroit, and in his fourth season in the NFL, finally got to play in Buffalo this season. Lewis started five games after Bills starter EJ Manual was hurt.
Lewis showed off the high football IQ and strong arm that has kept him in the league.
"Thad's really had to fight through some hurdles,'' Roper said. "I told every NFL scout coming out, I said, 'I don't know if he's anybody's starter, but I know there's not 60 quarterbacks in the country better than him.' It's taken a little bit.
"I think he is finding a home now because every time he goes out there and plays, he plays well. He's an NFL quarterback."
Lewis said Tuesday that prior to Roper's tutelage, he did not have the knowledge that it takes to play quarterback in the NFL. During their two seasons together that changed as Lewis' recognition of defenses, his pocket presence and his overall game improved.
"He was very influential in allowing me to take it to the next level,'' Lewis said. "He is a tough-nosed coach. He taught me the fundamentals of the game. One thing I want to say to the Gator quarterbacks, I hope they are ready to get coached hard. He coaches you hard because he wants the best out of you on the field on Saturdays."
Lewis didn't know Roper or his background when Cutcliffe took over the program after Lewis' sophomore season. Soon they developed a connection in quarterback meetings that included Lewis' backup, Atlanta Falcons rookie Sean Renfree, and newcomer Sean Schroeder, who did not play in three seasons at Duke before transferring and starting at Hawaii the past two seasons.
It was in those meetings that Lewis learned as much about defenses as he did about Roper's offense.
"There was a change in outlook,'' he said. "I was being taught a different aspect of the game. A lot of coaches don't have the patience to teach young 18- and 19-year-olds defenses. If you know the defense against your offense, then you will know where to go with the ball. I didn't quite understand why he was teaching us defense instead of our offense. I figured out why once we started playing.
"It made all the difference in the world. I saw every defense known to man. It was easy to transition onto the field. If it wasn't for him, I'm not sure where I would have been in my career. Having him for two years and being on the same page helped a lot."
In his first season at UF, Roper will try to inject life into an offense that is expected to be led by redshirt junior Jeff Driskel. Driskel led the Gators to an 11-2 record in 2012 but played in only three games last season due to a broken lower leg suffered in a win over Tennessee.
Lewis, a Florida native who played at Hialeah High in Miami Lakes, will keep a close eye on his former coach.
"Florida got a great offensive coordinator and a great quarterbacks coach,'' Lewis said. "I'm excited to see him help those guys."
VIDEO
A look at Lewis highlights from his college career at Duke: