Scott Carter's Blog

Carter's Corner
Tuesday July 9, 2013 Gators QB Driskel excited about return to Manning Passing Academy this week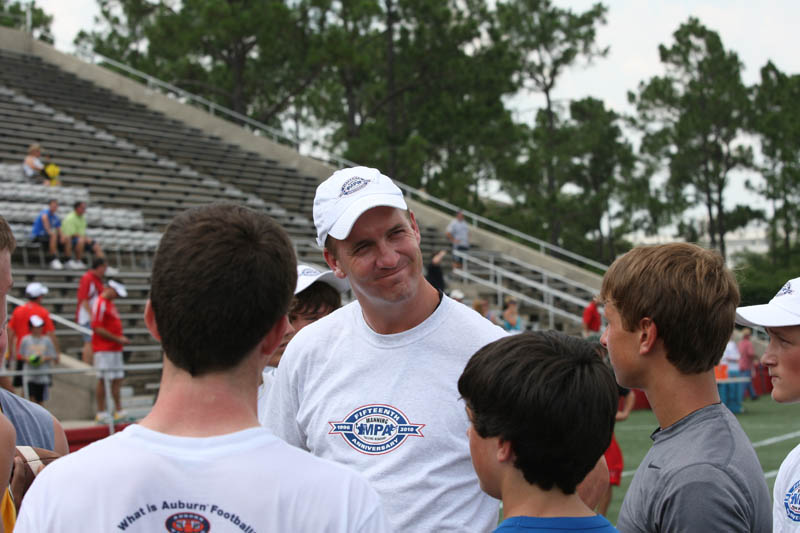 NFL quarterback Peyton Manning at his annual summer camp. (Photo: Manning Passing Academy).
GAINESVILLE, Fla. – When Peyton Manning was a junior at Tennessee in 1996 he came up with an idea to teach young quarterbacks more about playing the game's most scrutinized position.
His father Archie, a former NFL All-Pro quarterback, and brothers Eli and Cooper helped out. On Thursday the 18th year of the Manning Passing Academy Offensive Skills Camp opens at Nicholls State University in Louisiana.
Gators junior quarterback Jeff Driskel is one of approximately 40 college quarterbacks from around the country scheduled to serve as camp counselors. Driskel participated in the camp after his sophomore season at Hagerty High in Oviedo to improve his skills.
"My mom found it on the Internet and it sounded good so we went out there and tried it out,'' Driskel said Tuesday. "I had a good time so I'm lucky I get the chance to go back as a counselor this time."
Driskel remembers he participated in drills that were run by Peyton Manning, entering his second season with the Denver Broncos, and New York Giants starting quarterback Eli Manning. But there wasn't a lot of one-on-one time.
Driskel is looking forward to the opportunity to work more closely with the two NFL stars later this week.
The Manning brothers hold a private session with top college quarterbacks during the four-day event. Heisman Trophy winner Johnny Manziel, Tulane's Nick Montana, Louisville's Teddy Bridgewater, A.J. McCarron of Alabama and Aaron Murray of Georgia are some of the college quarterbacks schedule to attend this year's camp as counselors.
"I'm excited to go back out there and meet the Mannings,'' he said. "They obviously know the game probably more than anybody in the world. I'm really excited to be around them and all the other college quarterbacks to learn some stuff from each other."
The camp opens Thursday and runs through Sunday. Meanwhile, here is a quick Q&A with Driskel about the Mannings and more?
Q: What do you remember last time you were at the camp?
A: I remember a bunch of good college quarterbacks being there and I remember Thibodaux, La., being the hottest place on earth.
Q: Are you a big Peyton or Eli fan?
A: It's hard not to be. At this point in my career, it's hard to be a fan of a team or anything like that, but growing up I was a Jacksonville Jaguars fan. But now I more like watch the game and study the quarterbacks and those are definitely two guys that when you are watching NFL film, they are going to show up on the highlights.
Q: What do expect your role as a counselor of young players to be like?
A: I've never really been a coach to younger kids or anything, so I'm just going to share with them what I know and do what I am asked to do. Whatever they ask me to do I'll be happy to do. When they told me we were going to get to work out with the Mannings once or twice, I didn't listen to the rest. I just said, 'yeah, I'll be there.' It will be fun.
Q: What has your primary focus been this summer?
A: I said it last summer and I'll say it again, the summer is about timing in the passing game. Myself, the receivers, the running backs, the tight ends, the running backs are really working together to know where to be and when to be there so we know we're on the same page with either other. It's helped out a lot. I've seen a lot of improvement from the skill positions, which will be huge for us this year.
Q: Freshman receiver Demarcus Robinson has fans excited. What have you seen from him?
A: He had a great spring. He picked it up relatively easily in the spring, but in the spring a lot of times there are coaches right behind you telling you what to do. When you don't have that safety blanket, it's a little bit different. But we've worked hard. We've put a lot of time in. He's a guy who is going to have to make plays. We need to get him to know what he's doing and he's done a good job of getting there.