Friday May 3, 2013Lee's return boosts Warriors, Noah predicts win, Muschamp's tour, Gators lacrosse, plus more
Updated: 2:06pm, May 3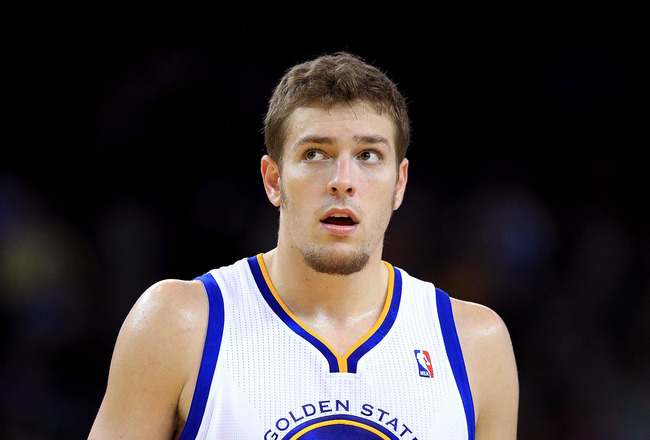 Former Gators standout David Lee made a memorable return for Golden State on Thursday.
Gators football coach Will Muschamp is busy on his spring speaking tour, making a stop Thursday night in Tampa. The SEC Network was officially unveiled Thursday. Meanwhile, several former Gators are busy playing in the NBA Playoffs, including David Lee.
Lee was expected to miss the rest of the season but made a surprise return Thursday night as Golden State ousted Denver.
To help you catch up, here are 15 links covering items of interest to Gator fans:
--For more on Lee's return, click here to read a notebook from The Oakland Tribune.
--Former #Gators star Joakim Noah, playing with a foot injury, helps the Bulls defeat Brooklyn and predicts a Game 7 win on Saturday via ESPNChicago.com.
--Wizards rookie Bradley Beal finishes third in NBA Rookie of Year voting a year after starring for Gators writes The Washington Post.
--Since we're on a roll here, let's catch up on another former Gators hoops players, this a Q&A with Adrian Moss from the website BricksandPalmTrees.com.
--Florida football coach Will Muschamp hopes Tim Tebow eventually finds a home in the NFL writes The Orlando Sentinel.
--Muschamp spent Thursday night in Tampa speaking to boosters and fans. Click here to read a report from Antonya English of the Tampa Bay Times.
--Gators look to ramp-up their pass rush in Year 3 under Muschamp writes Michael DiRocco of ESPN.com's GatorNation.
--Florida's lacrosse team faces Ohio State today in the American Lacrosse Conference tournament semifinals writes Jim Harvin of The Gainesville Sun.
--The Atlanta Journal-Constitution asks what impact will the SEC Network have on recruiting?
--Former Gators assistant Larry Shyatt is making the rounds -- and progress - as coach at Wyoming writes the Sheridan (Wyo.) Press.
--Gators softball player Briana Little chipping in big for UF writes Hays Carlyon of the Florida Times-Union.
--The Kansas City Star breaks down Kansas' nonconference hoops schedule next season, highlighted by a Dec. 10 trip to the O'Dome to face the Gators.
--Former Gators shortstop Nolan Fontana has a big fan in the blog ClimbingTalsHill.com, which writes the Legend of Nolan Fontana.
BONUS LINK
--Tim Tebow gets The Onion treatment while back at UF (satire). And yes, I'm a Tebow fan who still believes he can find a home in the NFL one day.