Scott Carter's Blog

Carter's Corner
Sunday February 24, 2013 BasketBlog Notebook: Frazier update, Big Pat,
Updated: 9:35am, February 25
GAINESVILLE, Fla. -- The news Sunday was good for Michael Frazier II and the Florida Gators.

Frazier, who suffered a concussion in Saturday's 71-54 defeat of Arkansas, made improvements on his follow-up baseline measurements and is expected to be available next weekend when the UF plays host to Alabama in a huge Southeastern Conference game.

The Southeastern Conference's leading 3-point shooter, Frazier already had been ruled out of Tuesday night's game when Florida (22-4, 12-2) travels to Tennessee to face the streaking Volunteers (16-10, 8-6), winners of five straight.

"They say the tests are going good right now and that I can be back soon," Frazier told GatorZone.com Sunday. "I want to play, I want to be out there with my teammates, but you also can't mess around with something like this."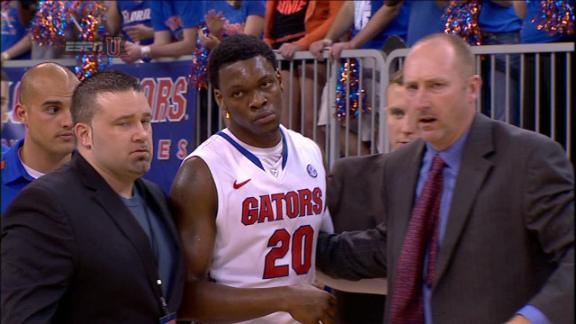 Frazier, who is averaging 7.0 points per game and shooting almost 55 percent from 3-point range in SEC play, was injured in a scramble for a loose ball with just under 12 minutes to go against the Razorbacks. Replays showed Frazier's head knocking into the knee of teammate Scottie Wilbekin, with the former Tampa Plant and Montverde Academy star remaining practically motionless on the O'Connell Center floor before eventually being helped to his feet and led off the court.

UF trainer David "Duke" Werner said Frazier was taken to Shands Hospital for a CT scan, the results of which were normal. He was released Saturday night, returned to his dorm for the evening, had follow-up tests Sunday and spent most of the day resting before showing up in street clothes toward the end of practice.
Frazier recalled little about the collision, only going after the ball, feeling his head make contact with something (he didn't know what), then Werner speaking to him.
He can take solace in the fact teammate Casey Prather was sidelined nearly three weeks earlier this season after suffering the second of two concussions.
The situation certainly could be worse.

"I'd love to be out there and playing in that environment at Tennessee, but these things happen sometimes," Frazier said. "I'll be there cheering them on and doing anything I can to help."

Assuming the timetable for Frazier's return is correct, the UF roster could very well be at full strength this weekend, with junior forward Will Yeguete's return for the Alabama game now a very real possibility.

Yeguete underwent knee surgery Feb. 8 to remove cartilage fragments in his right knee and was expected to miss the remainder of the regular season. His rehab, though, is well ahead of schedule with Coach Billy Donovan and the medical staff optimistic he can be back this week to play the final three SEC games.


GOOD YOUNG MAKES GATORS GREAT

This is how Donovan framed the up-and-down play of center Patric Young.

"It's a total choice by him," the coach said.

In the loss at Missouri last Tuesday, the 6-foot-9, 260-pound was practically invisible among the more aggressive and active Tigers, finishing with two points and three rebounds. Those happened to be the same numbers Young (righ) carded the game before at Auburn, but the Gators didn't really need him then, thanks to 15-for-30 shooting from 3-point range.

They needed him at Mizzou, though, but the high-flying, high-energy Young was not there.

He was against Arkansas and the Gators won by 17.

"I came out a lot more focused," Young said.

Without question, Young feeds off the home crowd probably more than any other player on the Florida roster. That's good, of course, but the Gators have just two more games at the O'Dome and then it's on to neutral sites for the SEC and NCAA tournaments.

In between is that upcoming game Knoxville Tuesday and the regular-season finale at Kentucky. It'd be nice to get that same "focus" Young referenced on an opposing team's court. It starts at practice, though.

"It's a mentality, a commitment. It is every single day working like that," Donovan said. "As big and strong as he is he should demand the ball every single time when he gets inside. ... But sometimes, you watch him on film and there's no presence. He's just standing there."

Against the Razorbacks, Young was engaged and battling for position. When he does those things and gets the ball in that sweet spot around the post circle -- deep in the paint versus 8 feet from the basket -- Young becomes a serious threat and the Gators become a more dangerous team because the defense collapses on him and sets up shooters on the perimter.

"Coach told us to feed the big guy," senior guard Mike Rosario.

But the big guy has to be hungry.
TRIVIA QUESTION

Senior guard Kenny Boynton took 14 shots Saturday, moving him past Andrew Moten (1984-87) into the No. 2 spot on UF's list for all-time field-goal attempts. Boynton needs just three shots to reach the No. 1 spot currently occupied by who? Hint: It's not Erving Walker. Answer below in "Free Throws" section.


EX-GATOR OF THE WEEK

We're back to Bradley Beal again. The Washington Wizards rookie and No. 3 overall pick in the 2012 draft averaged 21 points, seven rebounds and three assists over three games last week, including wins over playoff contenders Denver and Houston. The Wizards started the season 4-28, but have won 13 of their last 22, with all but one of those coming since the return of point guard John Wall, who was the No. 1 overall pick in 2010. In fact, after their rally from 17 down Saturday night to upset the Rockets, NBA analyst Rick Bucher, of Comcast and NBC, wondered in a blog if the Wall/Beal duo did not have a better long-range upside than Houston's backcourt of James Harden and Jeremy Lin. "A case can certainly be made," Bucher wrote. "The Rockets, overall, have more assets and obviously are better positioned, cap-wise, to take another big step forward, and Harden has been so good that he makes the Rockets' pair the choice all by himself, but as far as two players fitting together the strengths and weaknesses of Wall and Beal are far more compatible."


CHARTING THE GATORS

UF already was down one man (Yeguete) from its normal rotation of eight players when the team lost Frazier. In fact, Florida has had all eight members of its core rotation intact for just seven games this season. Below is a review:
* Denotes being injured in that game and not did not being able to finish.

Scott Wilbekin - 2 missed games
Suspended for violation of team rules: Alabama State, Wisconsin

Erik Murphy - 1 missed game
Broken rib: at Yale

Mike Rosario - 1 missed game
Sprained ankle: at LSU

Casey Prather - 9 missed games
Concussion: Alabama State, Wisconsin, Middle Tennessee State, Savannah State
Sprained ankle: *at LSU (played 13 minutes), at Texas A&M, Missouri, at Georgia, at Mississippi State.

Will Yeguete - 6 missed games
Knee: *at Arkansas (played 1 minute), Mississippi State, Kentucky, at Auburn, at Missouri, Arkansas

Michael Frazier - 1 missed game
Concussion: * Arkansas (played 15 minutes)
IRREVERENT GATOR PHOTO OF THE WEEK
Just call this "extreme skydiving."
FREE THROWS

For the second time in as many SEC losses, the team that defeated the Gators turned around and lost its next game on the road. In this case, it was Missouri going to Kentucky and falling in overtime. Earlier this month, it was Arkansas celebrating -- and talking (a lot) -- a win over the then-No. 2 team in the nation, only to turn around and lose at Vanderbilt, which was then just 2-7 in league play at the time. ... Before Saturday's four-point halftime lead, the smallest margin at
intermission of a home game was 12 points against Wisconsin. ... Gotta love the "Big Heads" or "Fat Heads" or whatever they're called that the Rowdy Reptiles put out for games. Although Rosario gets the bulk of (big) face time with his fans right behind the TV crews, kudos to the Rowdies for giving equal opportunity love to director of basketball operations Darren Hertz (pictured right). So what will they do for an encore? What key under-the-radar staff member is next? Hey Rowdies, can you say, "Colby Donovan?" Or "Tracy Pfaff?" How 'bout "Presti" or "Billy O?" [Note: If any of you hardcore Rowdies know who "Presti" is, you're my Gator Fan of the Week]. ... Florida got back to its stingy defensive ways against the Hogs. The Gators have now held opponents under 60 points 19 times this season. Arkansas guard BJ Young came into the game as the SEC's third-leading scorer at 16.5 points per game. Young went 0-for-8 from the floor and was held without a field goal for the first time this season. Take a bow, Scottie. ... The addition of Damontre Harris to the UF scout team has been huge for the Gators. Harris, the transfer from South Carolina sidelined for nearly five months with a torn labrum, was cleared for practice last week and immediately took his place in the middle of UF's scout team -- all 6-10, 230 pounds of him. Harris, an SEC All-Defensive Team selection last year for the Gamecocks, gives the Gators a more realistic look of their opponent. Any opponent. In fact, the scout team of Harris, Dorian Finney-Smith (transfer from Virginia Tech), a healthy Frazier, plus DeVon Walker, Braxton Ogbueze, Dillon Graham and walk-on Jacob Kurtz probably could win four or five games in the SEC. ... Trivia answer: Stacey Poole (1990-93) took 1,578 shots over his career en route to scoring 1,678 points, which ranks No. 6 in school history.