Scott Carter's Blog

Carter's Corner
Tuesday October 2, 2012 CBS Analyst Gary Danielson talks Jeff Driskel, Troy Aikman, Gators and LSU
Updated: 9:38pm, October 2
The Florida-LSU game on Saturday is being shown nationally on CBS Sports.
Former NFL quarterback and CBS college football analyst Gary Danielson is part of the broadcast team, joined by play-by-play man Verne Lundquist and sideline reporter Tracy Wolfson.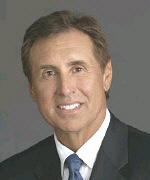 GatorZone.com caught up with Danielson for a few minutes on Tuesday afternoon. While the Gators' opportunity to make a strong statement on a national stage is a popular storyline this week, Danielson has a different view.
Here is our Q&A with the 13-year NFL veteran, who has worked as a college football analyst since 1991, the last seven years with CBS:
Q: What's your take on this year's Florida team?
A: A lot of people are asking me, 'Does Florida need to win this game -- or at least make it a battle -- to prove that they are back?' Not to me. I knew they would be pretty good this year. I think they have a pretty elite defense. I figured that the second year in an offense away from the spread, that they would make advances. I figured instead of being able to play with freshmen quarterbacks, being able to play with quarterbacks with some time in the system, that it was going to be much better. To me, it's not a proving game. I know they are a good football team.
Q: What has caught your attention about Gators quarterback Jeff Driskel?
A: There is no doubt that Jeff is the breakout player of the SEC this year. There's no mystery. He had to come through for this team. Jeff did come through. We all knew he had great raw talent. We knew that when he was being recruited by the last staff. The new staff has done a nice job of folding him into what they are trying to do. The comparison I have in my mind is that Jeff, in his athletic ability, is much like with his arm strength and his leg and his size, like a young Troy Aikman when Troy was transferring and changing from the Oklahoma wishbone to UCLA and brought all those raw skills and learned to play quarterback.
Q: Why do you think the Gators are an improved team in Will Muschamp's second season?
A: Last year's team had other challenges. They were one year into trying to change over from that old offense. I'm not going to pretend to say that that offense didn't work, because they won two national championships. But when you go away from that offense, it has a year at least of transition, and it may be more than that. And on top of that they suffered some real key injuries that set them back. They had a lot of challenges. There are just too many good football players on the field [this year] for me to say they need to prove anything.
Q: What has impressed you most about Driskel from what you have seen?
A: He's bigger than I thought he was. He's faster than I thought he was. He seems more comfortable in the pro offense than I thought he would be at such at early time. He just seems to have been able to transition from what he did in high school into this real comfortably. And I think he is the beneficiary of a couple of things brought in with [offensive coordinator] Brent Pease. Brent brought in credibility, and that's kind of hard to believe when you bring in a coach from Boise State to Florida. But Brent brought in credibility right away because everyone had seen how Boise State had played. And they all bought in. On the other side, the coaching staff believes and they have rallied around it, and Brent himself is confident in what he is doing will work. He's seen it work against Georgia, work against Oklahoma. It's a really good hire.
Q: Do you think it's important for a young quarterback to be coached by someone who played quarterback at a high level?
A: Not always. I wish I could say it is. I played for three coaches in the NFL that didn't play quarterback and one that did. They were all really good at what they did. Sometimes it's a Spurrier and sometimes it's a Belichick. Good teachers are good teachers, whether they are teaching geometry or quarterbacking. Some people are just able to take the gray out of it, and it appears that Brent Pease has been able to take a lot of gray out of it for this team. I don't want to dump all this on Charlie Weis. I don't think anybody could have come in last year and had success the way it is this year. It just was not meant to be last year. There was just too much work to be done, and considering all the injuries, it just wasn't going to happen.
Q: What do you see as the key for Florida to come out with a win on Saturday?
A: They have to continue to be what Will has demanded them to be: just physical. In these games like this, it's like playoff hockey. You have to go along the boards, you have to win the one-on-one battles, you have to be ready to win ugly and throw the puck in front of the net and stuff it by a few times. There is going to be a lot of individual great talent out there and there will be some pretty plays, but the winning team will be making all the tough plays during the game.