Scott Carter's Blog

Carter's Corner
Thursday September 20, 2012 On this date in Gators history: Sept. 20, 1969
Updated: 8:45am, September 20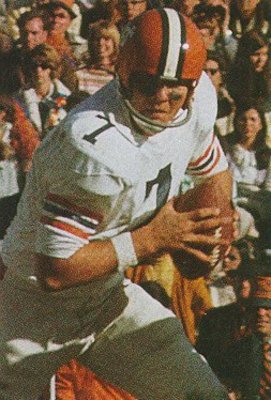 Houston came to town ranked No. 7 in the nation -- and Playboy's preseason pick to win the national championship -- and like everybody else at Florida Field was introduced to a group of Gator youngsters who came to be known as the "Super Sophs."
Quarterback John Reaves (left) passed for 342 yards and five touchdowns, classmate and wideout Carlos Alvarez had 182 yards and three scores, including a 70-yard bomb on the third play of the game. Defensive back Jimmy Barr, another sophomore, returned an interception for a touchdown, UF took a 38-6 lead before the high-powered Cougars woke up.
Florida finished with 502 yards and the most points since a 60-6 beating of Washington and Lee in 1928.
The win was a springboard to just the third 6-0 start in school history, as the Gators went on to tie the program record for nine wins in a season.